"I remember when I got the part in 'Gentlemen Prefer Blondes.' Jane Russell – she was the brunette in it and I was the blonde. She got $200,000 for it, and I got my $500 a week, but that to me was, you know, considerable. She, by the way, was quite wonderful to me. The only thing was I couldn't get a dressing room. Finally, I really got to this kind of level and I said, "Look, after all, I am the blonde, and it is 'Gentlemen Prefer Blondes!'" Because still they always kept saying, "Remember, you're not a star." I said, "Well, whatever I am, I am the blonde!" Marilyn Monroe
On the 15th July 1953, "Gentlemen Prefer Blondes" made its big screen debut, today we are celebrating 65 years since Marilyn Monroe and Jane Russell sang and danced into our hearts and minds and made us realise that "Diamonds Are A Girls Best Friend!"
"Gentlemen Prefer Blondes" started life as a novel, written by Anita Loos in 1925 and later became a successful Broadway hit in 1949. Marilyn first heard she had secured the role of Lorelei Lee, the lovable gold digging blonde on June 1st 1952, her 26th birthday. She was to co star with Jane Russell, who although at the time had only made 9 pictures to Marilyn's 19, Jane was undoubtedly the bigger star, having been catapulted into stardom with her debut feature film, "The Outlaw." The film also had a strong supporting cast, Elliot Reid, Tommy Noonan, George "Foghorn" Winslow and Charles Coburn, who along with Winslow had acted alongside Marilyn in the 1952 screwball comedy "Monkey Business" starring Cary Grant and Ginger Rogers.
Filming commenced November 17th 1952 and according to her co star Jane Russell, Marilyn showed no signs of forgetting lines or being late on set which she became more and more notorious for later on in her career. "I didn't experience any of the lateness or unprofessionalism you hear about, that came way later. She worked very hard and always knew her lines and was absolutely determined to get ahead." Russell remembers, "we got along very well and when I found out she was a little nervous about going out on the set, I'd stop by her dressing room and you know, say 'come on Blondel, it's time to go! We're due…' and she'd say 'oh! alright Jane' and we'd trot on the set together."
The film had 5 songs which showcased Marilyn and Jane's vocal abilities beautifully: "Two Little Girls From Little Rock," "Bye Bye Baby," "When Love Goes Wrong," "Diamonds Are A Girls Best Friend" and "Ain't There Anyone Here For Love?" …. the latter was set around Jane Russell's character Dorothy Shaw attempting to flirt with the Olympic team on the cruise ships gymnasium and swimming pool. Jane bent down at the edge of the swimming pool so that the dancers could dive over and around her into the water. The problem was, one of them clipped Jane on the head with his foot and she rolled into the pool, even though her tumble did look intentional. Jane remembers: "It was an accident and we had to go back and re-shoot the whole number, but they ended up using that footage. We had a long time in those days to rehearse the numbers and we'd worked every day for a couple of months. I wasn't supposed to end up in the pool at all, but it turned out better the way it happened, although the poor dancer got fired! I mean, it didn't hurt." Ron Nyman, who managed to avoid Jane Russell with his own well-excecuted dive, added, "The guy's name was Ed Fury, he caught her by accident and the reason he was fired is because he then insisted on getting a co-choreography credit!"
Of course, the big musical number that most people remember from the film is the iconic "Diamonds Are A Girls Best Friend" which sees Marilyn in a stunning pink evening gown, singing and dancing on a backdrop of red and black, surrounded by men in suits, vying for her attention. One of the backing dancers was a young George Chakiris, who would later go on to win an Academy Award for his performance in "West Side Story." "One of my favorite credits is to say that I worked behind Marilyn Monroe and I love saying that." George remembers fondly, " She was phenomenal. She only about twenty six when she made that film but Marilyn was an actress who was deeply concerned about her work and was very conscientious. Let me give you an example of her professionalism: If there ever was a cut for any reason, she never went back to her trailer to check her makeup. She'd be there on her starting mark and ready for the next take. "
Filming finished on 22nd January 1953, but it wouldn't be unleashed to the world for another 6 months. Meanwhile, Marilyn was appearing in cinemas around the world in her 1953 film noir thriller "Niagara" which was her first major starring role, backed by a huge publicity campaign by FOX Studios. If there was anyone who by this point hadn't heard of Marilyn Monroe, they were sure to by now! It catapulted her into stardom and the public couldn't get enough of her. With the release of "Gentlemen Prefer Blondes" it would cement her as a major star in Hollywood an an even bigger box office draw.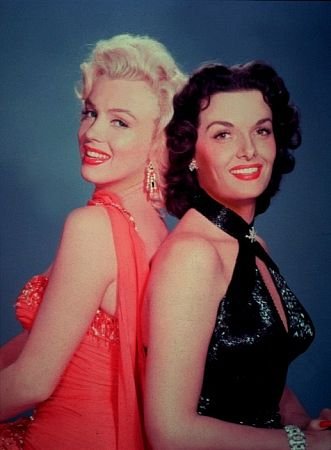 As a testiment to how popular Marilyn had become over the last 12 months or so and as a tribute to Jane Russell's everlasting appeal and celebrated career, the two were invited to place their hands and feet in wet cement at Grauman's Chinese Theatre on 26th June as promotion for the up and coming release of "Gentlemen Prefer Blondes" on July 15th. More can be read about that here:  http://www.marilynrememberedfanclub.com/65-years-of-marilyn-at-graumans-chinese-theatre/
"Gentlemen Prefer Blondes" was a huge success when it was released earning over $12 million at the Box Office after its initial budget of $2.3 million.
"The reviews were great and so was the box office" Jane Russell remembers. "Apparently everyone loved the Monroe-Russell combination, the New York Herald Tribune called it the "Haystack Brunette versus the Blowtorch Blonde." and said how very well we worked together. They loved the singing, our dancing- even our acting- and especially the 'Diamonds Are A Girls Best Friend' number. We were delighted with the reaction the film got from both the press and the public. I was especially happy and I had a ball on that picture."
Although it was cruely overlooked at every single major awards ceremony, only achieving one nomination at the Writers Guild Of America Awards 1954 for 'Best Written American Musical' it went on to be the 6th highest grossing film of 1953 and incidently Marilyn's second highest grossing film of her career – second to 'Some Like It Hot.'
It is also safe to say that "Gentlemen Prefer Blondes" is a firm favourite among Marilyn fans and Jane Russell was once quoted as saying "It really was the best thing that either of us was ever involved in."