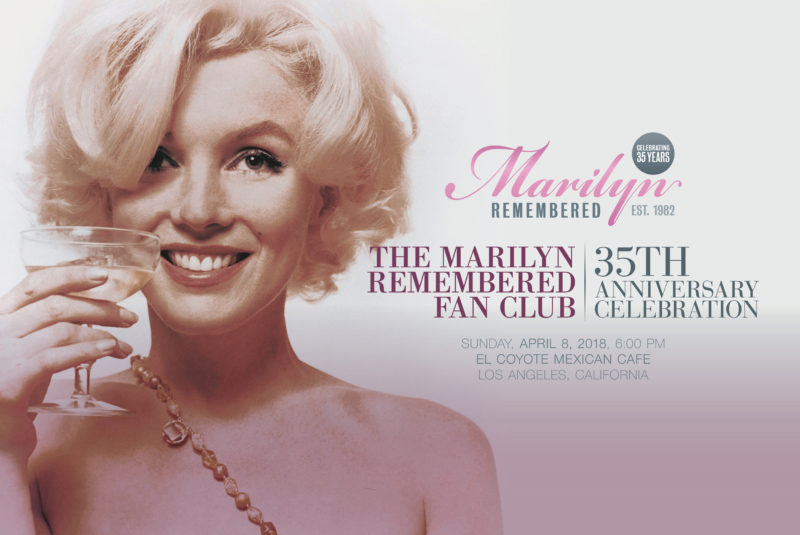 Announcing the Marilyn Remembered Fan Club 35th Anniversary Celebration
In recognition of our 35th anniversary, Marilyn Remembered has planned an evening of fun, festivities, giveaways, raffle prizes, and a look back over the last 35 years of preserving the memory of Marilyn Monroe with dignity and grace. And you're invited!  We hope you'll be able to attend as we celebrate our legacy.
To learn more about Marilyn Remembered's history, click here.
---
EVENT DETAILS
When:  Sunday, April 8, 2018
Time:  6:00 PM
Where:  El Coyote Mexican Cafe, 7312 Beverly Blvd., Los Angeles, CA 90036
Tickets:  $10.00 per person, which includes dinner and non-alcoholic beverage*
---
BUY TICKETS
*In order to help offset event expenses, attendees are being charged a nominal fee of $10.00 per person.  Marilyn Remembered will cover all remaining event costs.
TICKETS WILL NOT BE SOLD AT THE EVENT
AND MUST BE PURCHASED IN ADVANCE.
ONLINE TICKET PURCHASE:  To purchase tickets online, please complete the form below.
Select the number of tickets you are buying.
Enter your first & last name.
Enter the first & last name of guest/s.  Leave blank if you are buying a ticket for yourself only.
CHECK OR CASH TICKET PURCHASE:  If you'd like to buy tickets via check or cash, please download this form and follow the instructions provided.
Email MarilynRemembered@Yahoo.com with any questions.
---
The menu for the evening is below.