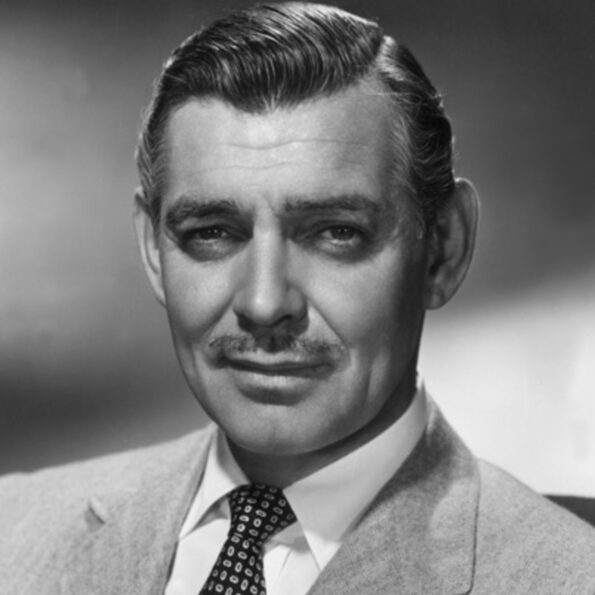 "Everything Marilyn does is different from any other woman, strange and exciting, from the way she talks to the way she uses that magnificent torso." ~ Clark Gable
Remembering Clark Gable, the King of Hollywood, who sadly passed away on this day, November 16th 1960 of a heart attack.
Gable, born February 1st 1901, was an American film actor with roles in more than 60 motion pictures and a career spanning nearly 4 decades.  Some of his films include: "Mutiny On The Bounty," "Red Dust," "Mocambo," "It Happened One Night" (for which he won an Oscar) and arguably one of the most famous movies ever made: "Gone With The Wind," in which he played the iconic Rhett Butler.
Marilyn Monroe & Clark Gable starred together in "The Misfits", the last completed film for both of them.  Monroe was a lifelong fan of Gable and as a small child, Norma Jeane would fantasize that he was her father:
"I hope Clark Gable won't hold it against me if I say that I saw him as my father.  I was only a kid and according to Freud, there's no harm in that.. on the contrary.  I dreamed that my father looked like him, or even that he was my father… Which reminds me, it's odd but I never dreamed that anyone was my Mother."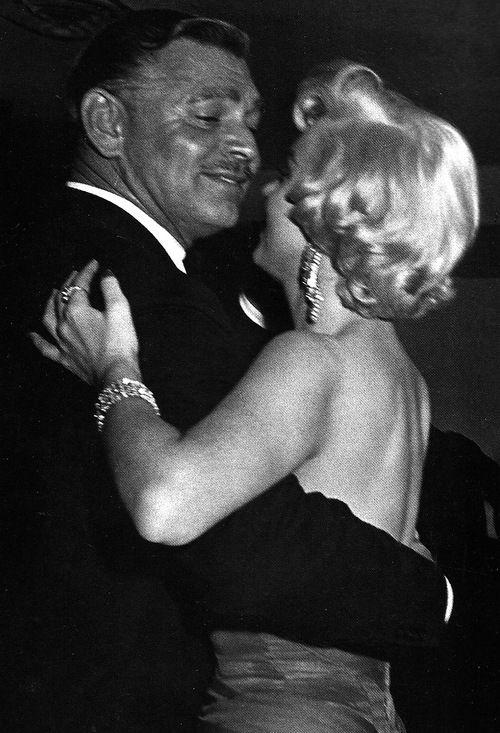 Marilyn spoke about her time working with Gable on the set of The Misfits:
"The place was full of so-called men, but Clark was the only one who brought a chair for me between takes. He never got angry with me once for blowing a line or being late or anything — he was a gentlemen. The best."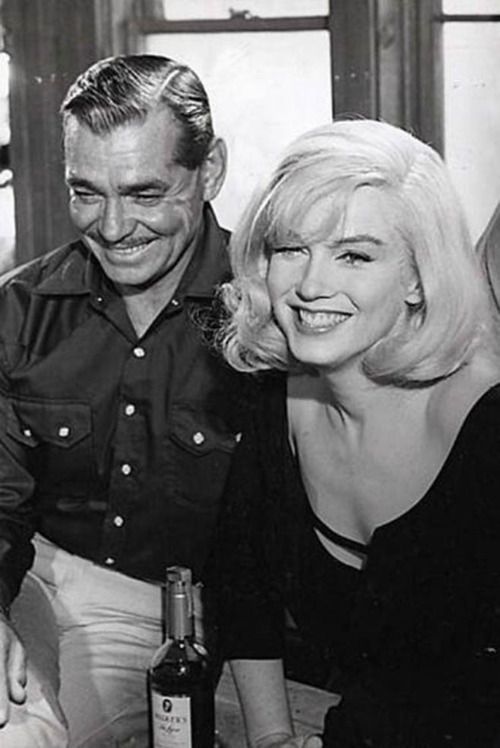 Here is an excerpt from "Blonde Heat: The Sizzling Screen Career Of Marilyn Monroe."
"Principle production on The Misfits ended on November 4th.  The next day, Clark Gable, at age 59, suffered a massive heart attack.  On November 16th, he had a second one and died.  Marilyn was inconsolable.  Her impending divorce from Arthur Miller had been announced only five days before.  Thereafter, in line with her being blamed for the whole Misfits debacle, it would be reported that Gable's coronary was brought on by exhaustion from performing his own stunts while waiting for Marilyn to show up on the Nevada set.  Bored, he apparently agreed to be dragged by a truck travelling a speeds of more than 30 miles an hour across the harsh desert terrain, yet what the press chose to overlook was that for many years the King of Hollywood has been a chain smoker and heavy drinker.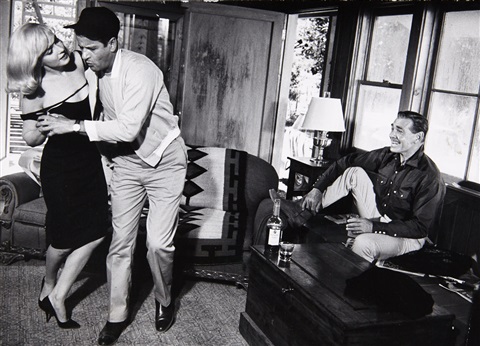 'People being to manufacture myths,' said Eli Wallach, co star in The Misfits. 'He would be pulled along by the truck, but it wasn't dangerous and it wasn't exhausting.  The whole story about him dying as a result of getting bored waiting for Marilyn dovetails too easily.  The man may have had a heart condition, but he was quiet and calm.  He never lost his temper, and he understood the plights of Clift and Marilyn.  Both were in a psychologically neurotic field, but Gable's wife was pregnant and he was a happy man.  If Gable was anything he was a true professional.  At 5PM, no matter where the scene was, he was finished.  It was in his contract, and that was it.'"
After Clark's death on Novemeber 16th, 1960, Marilyn was quoted as saying:
"Clark Gable was one of the finest men I ever met. He was one of the most decent human beings anyone could have encountered anywhere. He was an excellent guy to work with. Knowing him and working with him was a great personal joy. I send all my love to and deepest sympathy to his wife, Kay."
Gable's only son, John Clark Gable was born March 20th, 1961, sadly 4 months after Clark's passing.  Marilyn attended the christening on June 21st of the same year.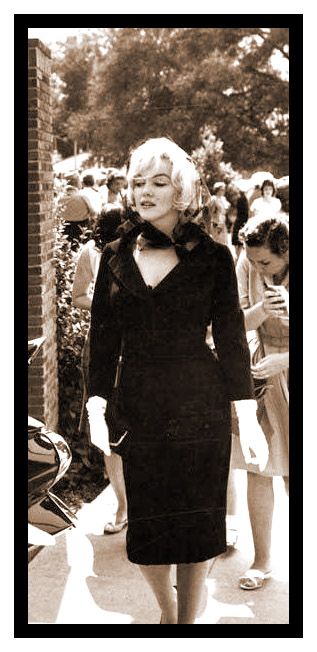 Gable was laid to rest at Forest Lawn Memorial Park in Glendale, California. Clark was buried in a closed casket. An Episcopal service was led by an Air Force chaplain accompanied by an honor guard at the Church of the Recessional. His fifth wife Kay had arranged for him to be interred next to his third wife, Carole Lombard.  Kay Gable now resides near him, as well as Lombard's mother Elizabeth Peters.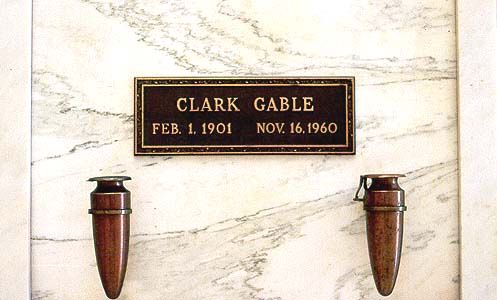 To the King Of Hollywood… rest in peace.
For more information on Clark Gable, check out: http://www.dearmrgable.com