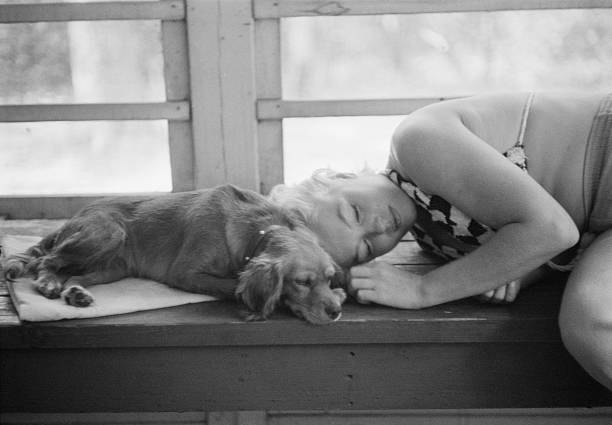 "I like animals.  If you talk to a dog or a cat, it doesn't tell you to shut up."  Marilyn Monroe.
Happy Chinese New Year to all the Marilyn fans out there!  2018 sees it being the year of the Dog.  Marilyn owned many pets in her lifetime, most of which were dogs.  Here we take a look back at Monroe's canine companions.
TIPPY
Tippy was a black and white dog given to Norma Jeane by her foster father, Albert Wayne Bolendar.  Every day, Tippy would go to school with Norma Jeane. He would wait and play with her at recess.  Circa 1932, when Norma Jeane was five or six, Tippy was shot by a neighbor, who claimed the dog was rolling around in his garden. Marilyn was to later claim in her autobiography that the neighbor "cut Tippy in half with a hoe."
RUFFLES
Either an English or Brittany spaniel, Ruffles lived with Norma Jeane when she lived with the Godard family. Norma Jeane and her "sister" Beebe shared the spaniel as their pet, around 1940.
MUGGSIE
Muggsie was collie given to Norma Jeane by her first husband, James Dougherty, in the late 1940's. Norma Jeane loved taking care of and playing with Muggsie and the two became best pals.
However, after Norma Jeane began her career as a model/actress and changed her named to "Marilyn Monroe," she didn't have any time to devote to Muggsie. According to Dougherty, Muggsie died of "a broken heart".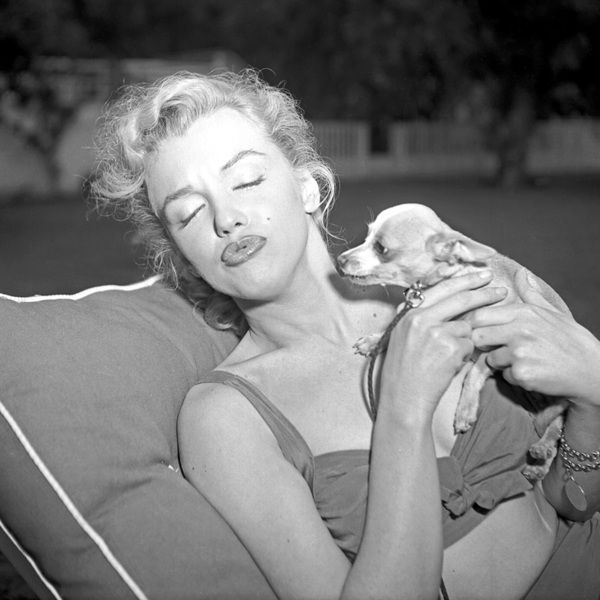 JOSEPHA
Josepha was a Chihuahua Marilyn owned at the time she was signed to a movie contract by Columbia pictures in 1948.
HUGO

Hugo was a Basset hound who lived with Marilyn and her third husband, Arthur Miller, at their East 57th street apartment in New York in the late '50's. Once, Marilyn and her friend Norman Rosten spoon-fed Hugo straight scotch to cheer him up. When Marilyn and Arthur split up, Arthur retained custody of Hugo.
MAF
"I live here all alone with my snowball, my little white poodle – he was given to me by my dear old friend Frank Sinatra. I call him Maf." Marilyn Monroe

Frank Sinatra gave Marilyn a little white poodle as a gift. Frank had purchased the dog from Natalie Wood's mother. Marilyn named the dog Maf, as a humorous reference to Sinatra's alleged connection with the mafia. Maf sleep on the expensive white beaver coat he had given her as a gift.  When Marilyn moved back to Hollywood after she and Miller divorced, she had Maf flown out to Hollywood to be with her. After her death, Maf was inherited by Frank Sinatra's secretary, Gloria Lovell.  Sadly, although Maf long outlived Marilyn, he was tragically run over and lost his life.
In 2010, a book was released called "The Life and Opinions of Maf the Dog and of his friend Marilyn Monroe." a very original idea of telling Marilyn's *fictional* life story of her later years, through the eyes of her beloved pet, Maf.


To read more about the book and to purchase, head here: https://www.amazon.co.uk/Life-Opinions-Friend-Marilyn-Monroe/dp/0151013721
"Dogs never bit me, just humans."  Marilyn Monroe.
Marilyn also worked with dogs throughout the years on various photoshoots and even some films.  These are just a small sample of some of the beautiful photographs taken over the years.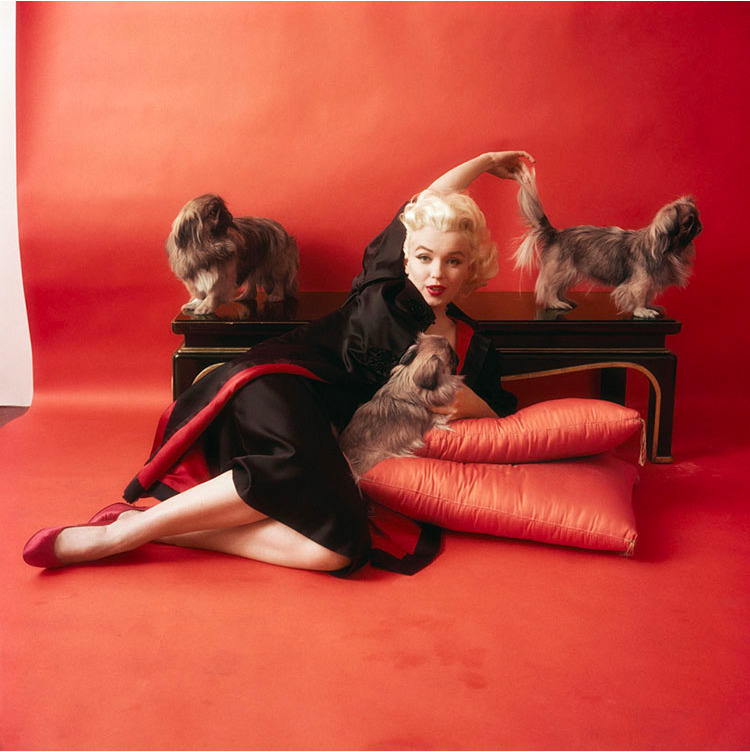 Photos copyright of the Milton H. Greene Archives.
Taken for a Look magazine editorial on Oriental Gowns, Milton photographed Marilyn at his New York studio on March 28, 1955.

In 1958, Life Magazine invited Marilyn Monroe and photographer Richard Avedon to recreate images of five celebrated actresses of different eras (Jean Harlow, Clara Bow, Theda Bara and Lillian Russell.  Entitled "Fabled Enchantresses," the piece was part of the magazine's December 22 "Christmas" issue and included an article by Marilyn's playwright husband, Arthur Miller, entitled "My Wife, Marilyn."  For her depiction of Jean Harlow, Marilyn posed with a beautiful white Borzoi dog for the photos.

Early modelling shots with Muggsie by Joseph Jasguar.

Early modelling shots by Bruno Bernard.

Photo by Andre De Dienes irca 1948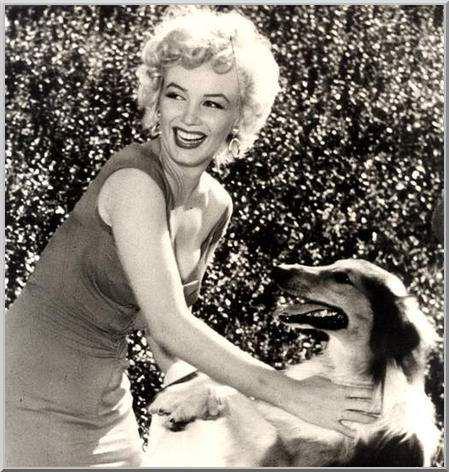 Two Hollywood legends.  During a party held at famous band leader Ray Anthony's house in Marilyn's name on August 3rd 1952, Marilyn met the star of the "Lassie" movies!  Though both seemed as star struck as each other!

Photos copyright of the Milton H. Greene Archives.
Marilyn having fun in the pool at Richard Rogers home in Conneticut circa 1955.

Marilyn at the French Consulate in New York to receive the French Crystal Star for "The Prince and the Showgirl", February 26th 1959.  Here she is posing with two dachshunds.

Marilyn and her "co star" in 'The Misfits' at the top and with one of the crew members dogs on the set.

Last but by no means least, in her last uncompleted film "Something's Got To Give,"  Marilyn had to film some scenes with Jeff the dog (or "Tippy" as he's named in the film.)  Although Jeff was word/bark perfect in rehersals, when it came to shooting, he just couldn't and wouldn't bark on cue, leading to countless hours of hilarious outtakes of Marilyn playing around with the dog and seeing her try her best to work with such an uncooperative star!