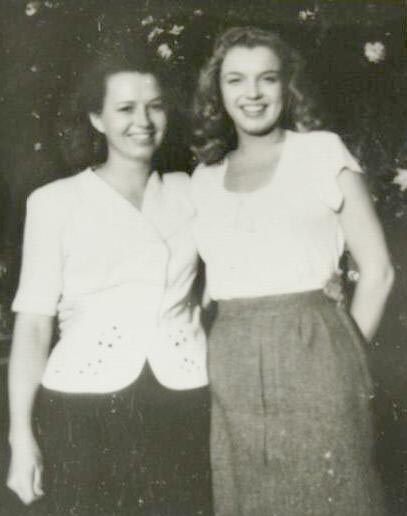 "My sister was a very hard working person.  She was very beautiful.. sweet and wonderful to everybody.  She loved people, she loved animals and she was very serious about her work."
~ Berniece Baker Miracle, speaking about her sister Marilyn.
Marilyn Remembered is deeply saddened to learn of the passing of Bernice Baker Miracle, Marilyn's sister, back in 2014.  Although it was believed that Miracle was alive and well, news spread through the Marilyn fan community on January 14th 2022 that she had indeed passed away on May 25th 2014, aged 94.  She now rests eternally beside her husband Paris in Pineville Cemetery Kentucky.
Our love and thoughts are with the family and we shall forever more 'hold a good thought' for Bernice.  Rest in peace.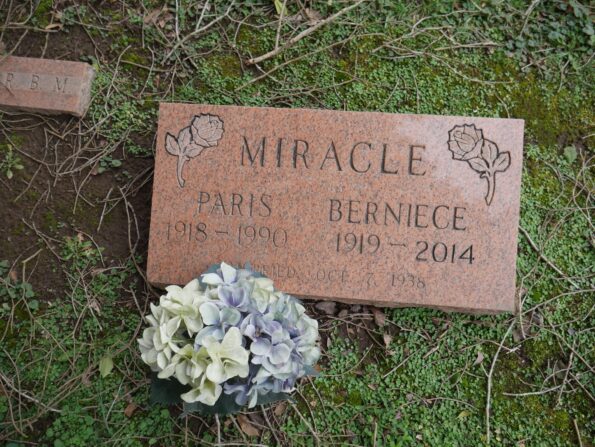 "The Marilyn Encyclopedia":
Bernice Inez Gladys Baker was born to Jack and Gladys Baker on July 30th 1919 — seven years before the birth of Norma Jeane Mortenson.  Father Jack Baker took Berniece and her brother Jack to Kentucky with him in 1923 after divorcing Marilyn's mother.
Accounts conflict about how much contact there was between the half sisters over the years.  During Norma Jeane's upbringing, Berniece lived with her father in Kentucky.  Marilyn told earlier biographer Maurice Zolotow, "I have never seen my half sister.  We have nothing in common.  She is married to an airplane engineer.  I am not sure where he lives.  It's in Florida, Clearwater or St Petersburg."  Biographer Donald Spoto mentions Norma Jeane briefly visiting her half sister in Tennessee in the summer of 1944.  Fred Lawrence Guiles writes that the half sisters met up several times during the fifties and Marilyn had occassion to introduce Mrs Miracle to Joe DiMaggio.
In 1961 Bernice accompanied Marilyn to Arthur Miller's country home in Roxbury, where Marilyn had lived to pick up the last of her things.  They were in touch with some regularity in the last years of Marilyn's life and Marilyn visited her sister then living in Gainesville, during her 1961 trip to Florida.
Berniece was contacted following Marilyn's death and with Joe DiMaggio she helped arrange her funeral.  Marilyn left $10,000 to her half sister in her final will.  In 1967 Bernice took over the care of their mother Gladys Baker, who went to live with her.
Bernice's 1994 book "My Sister Marilyn" sheds light on Marilyn's early life and last years.  It includes rare family photographs and a number of previously published letters and anecdotes of some of their times spent together such as this:

"One night Marilyn was exhausted and said "Do you want to roll up my hair for me?" She showed me how, but I didn't get it quite right. The rolls I made were smaller than her own usual ones.
We loved to talk about hair and clothes and makeup. Marilyn got a kick out of making up my face for me and showed me how to play down darker shade to make cheeks look more hollow, or a lighter shade on a thin lip to make it look fuller. She was an artist with colours on her own face. She told me to be sure to make myself some little eyebrows — drawn on a little feather line down each temple where my eyebrows are sparce. She drew those on me, and then did my eyes and my rouge and my lips, and after she finished we went to the mirror and cracked up laughing at the stranger she had turned me into."
To pick up your copy of "My Sister Marilyn" head here: https://www.amazon.co.uk/My-Sister-Marilyn-Memoir-Monroe/dp/0595276717