"ONE NIGHT WITH MARILYN"
   At the Edinburgh Festival Fringe 2023, review by Lorraine Nicol
STAR RATING: — — — ⭐⭐⭐⭐⭐ — — – 5/5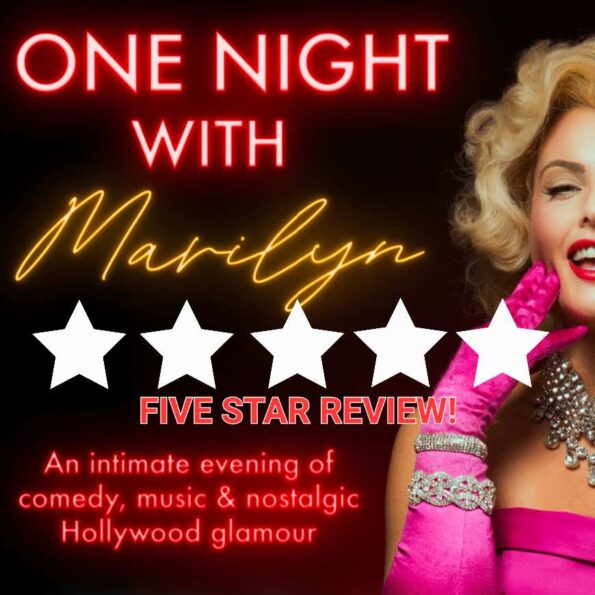 This review comes a little late. I had started writing it just when the news of the impending demolition of Marilyn Monroe's 12305 5th Helena Drive home hit the news. Like a lot of you, it felt like the Marilyn world had stopped turning and any joy and elation that I had over this fantastic show just disappeared… I couldn't bring myself to write about such a fun and joyous night when my stomach was feeling physically sick at the thought of what could happen to such an iconic Los Angeles landmark.
But now I feel in a much better place and I can now sit down and give this show the love and attention it so definitely deserves.
*I'd like to point out that I saw this show on the second last night of its two-week run, so even though this review is belated, the show's run in Edinburgh would have finished by the time I got the review out anyway.
"One Night With Marilyn" starring the beautiful Isabella Bliss, is a one hour, one woman show and is labelled as: Cabaret and Variety (musical theatre, tribute)
The description of the show says:
A laugh-out-loud, immersive, comedic, heartfelt tribute to Hollywood's most iconic blonde bombshell. The show will take you on a journey through the life of the silver screen's brightest star. What does it mean to be a sex symbol? Is she looking for a husband? And what really happened with the president? Honest, funny and captivating. One Night with Marilyn is everything you want from a close-up experience in an evening with the star. Sing the songs, share a drink, and experience Marilyn. 'A wonderful imitation and celebration of a true Hollywood icon' (Denise Van-Outen)
As I have mentioned in previous reviews, I am always a little wary when it comes to shows on Marilyn, I have seen my fair share of them now (most of them from the Edinburgh Festival Fringe as it happens..) and most of them have been horrendous. I'll cut to the chase… this show was FABULOUS!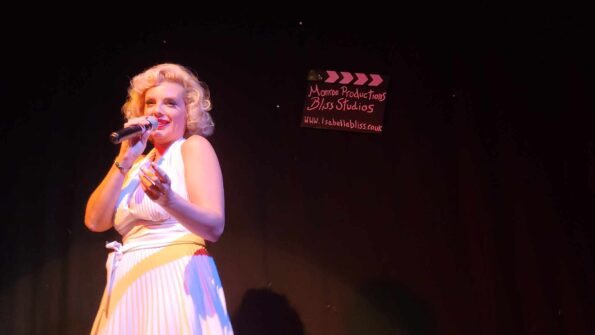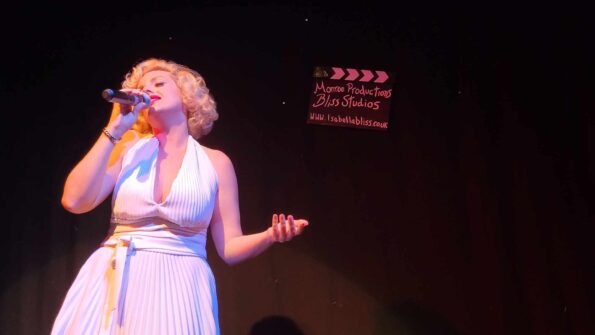 Isabella looks every inch the classic Hollywood Goddess, as she appears on stage in full Marilyn hair and make up and wore a wonderful re-creation of the White "Seven Year Itch" dress.
Instantly she bursts into song: "Some Like It Hot.." which is a song that very rarely gets the attention it deserves, so I knew right off the bat that this show had instant brownie points from me!
Isabella has a lovely singing voice and sings a variety of Marilyn's songs ("Some Like It Hot" "I Wannabe loved by you" "Two Little Girls From Little Rock" "My Heart Belongs to Daddy" "I'm Thru With Love""Diamonds Are A Girls Best Friend.") as well as a couple other retro inspired songs to fit in with the shows narrative "Why don't you do right?" and "L.O.V.E"
Although the show is labelled as a one-woman show, there was a lot of audience participation.. I myself even participated! Isabella would ask the audience questions about Marilyn "How many times was she married?" "Who was her co-star in "Gentlemen Prefer Blondes?" "What is next to Marilyn's Star on the Walk Of Fame?"…… to all of which I would enthusiastically raise my hand and shout out the answer! It was a running joke to the point where at the end of the show Isabella quipped "I hope you have all learned something about Marilyn tonight…. (pointing to me) well apart from you, as you've known everything!"and the audience laughed! And it was that quick wit that she had that reminded me so much of Marilyn's!
As I said, one of the questions that was asked was "How many husbands did I have?" because "Marilyn" was now on the look out for a 4thhusband! And the audience had to help choose between two willing (and probably slightly nervous!!) audience members!! The winner was chosen and he got to be serenaded "My Heart Belongs To Daddy"to by "Marilyn." The crowd (and especially the gentleman!!) LOVED it!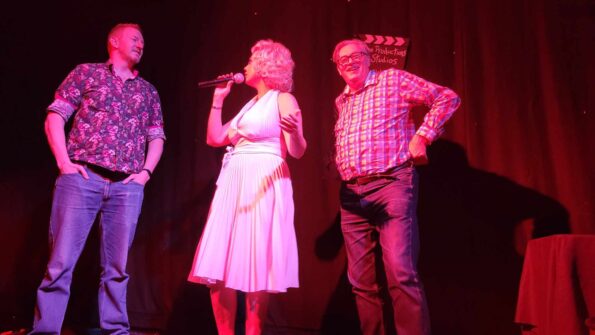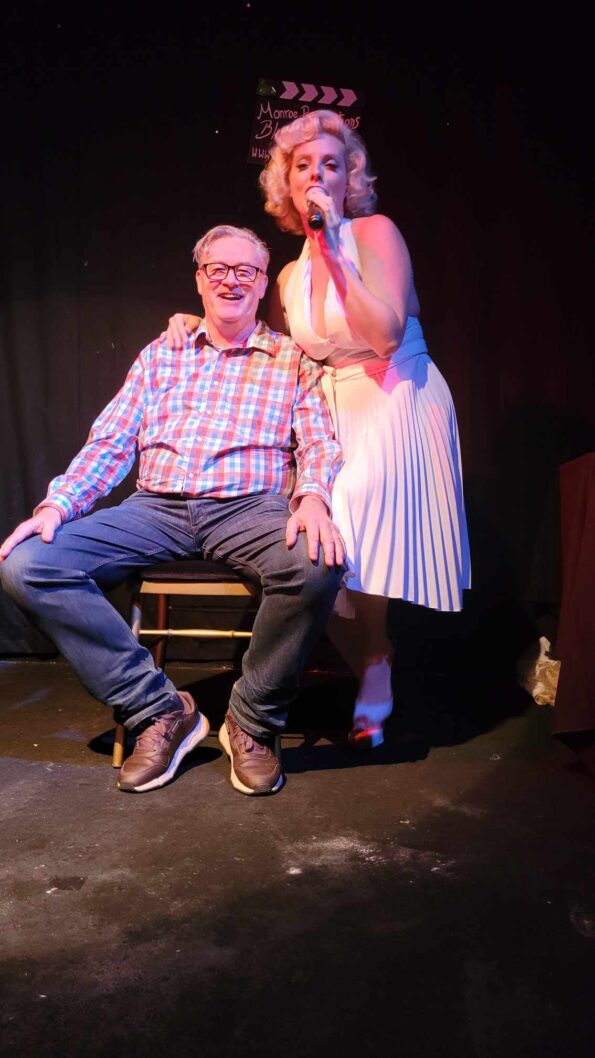 Another form of the audience participation was getting someone to help recreate the famous "Seven Year Itch" upskirt scene.. as you can see from the photos, the gentleman was DEFINITELY getting into it and the audience went crazy! He was a natural! "Marilyn" quipped that the budget for the show was so low, that she was going to have to lie underneath him and use a hair-dryer to blow his skirt up!
I'll be honest, when I read the reviews of this show, I was a little nervous about this part.. but I promise you, it was done in SUCH great humour! The whole audience was loving it, Marilyn wasn't being made to look like a joke, because we were ALL, including Marilyn.. in on the joke!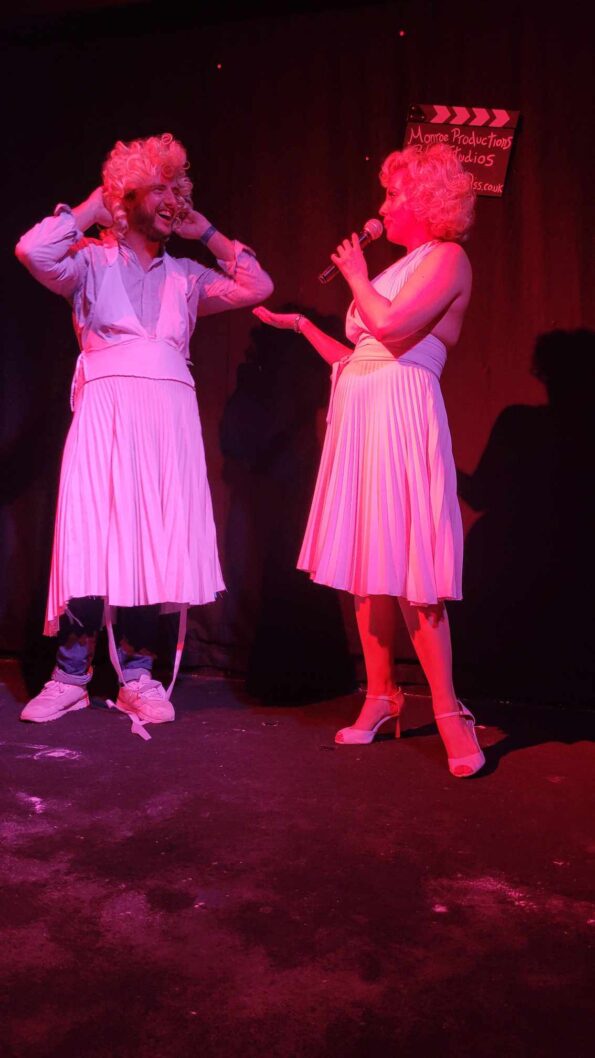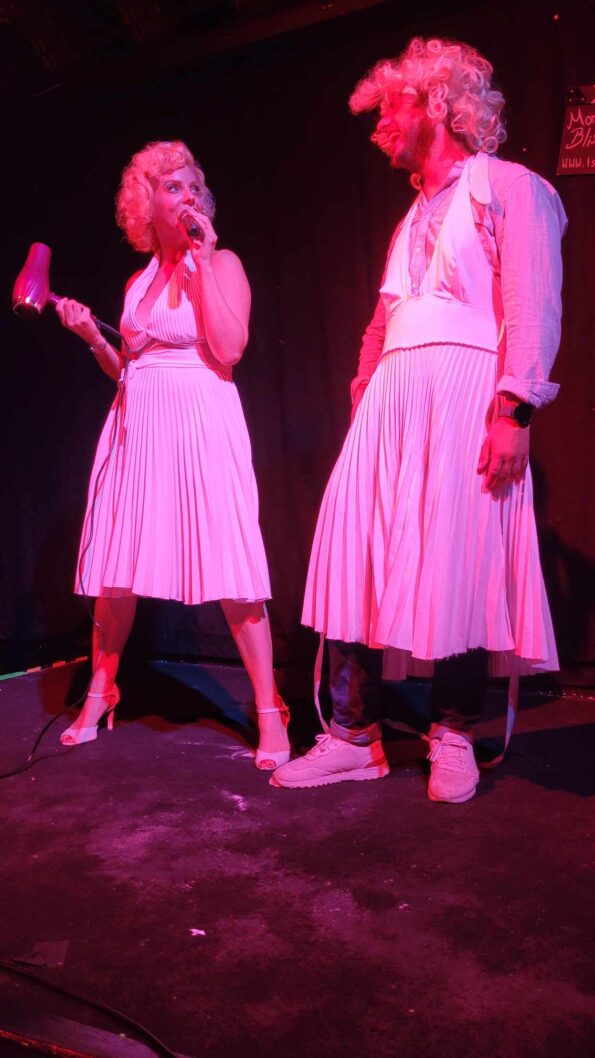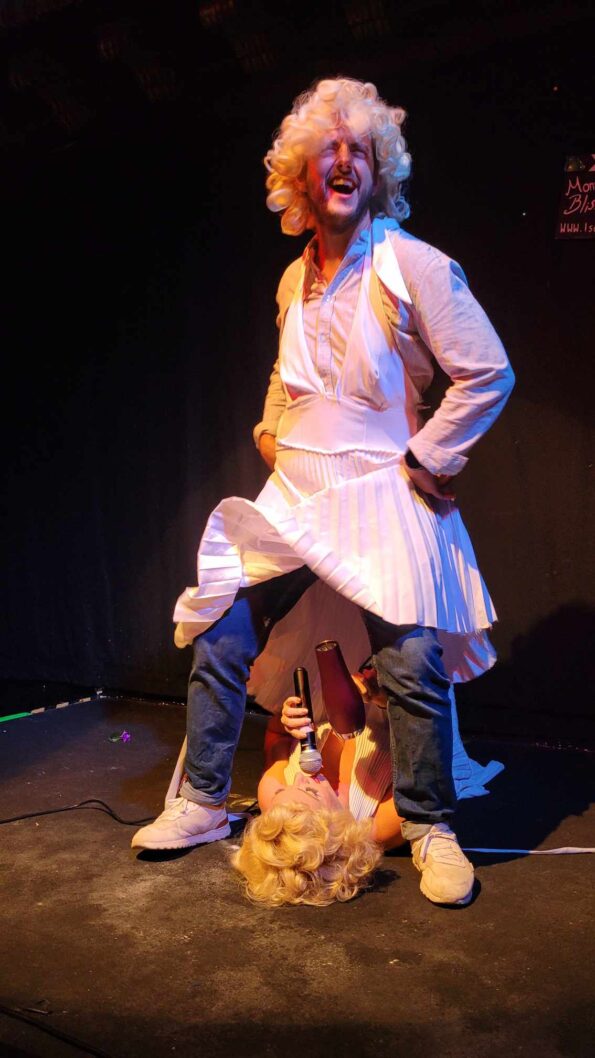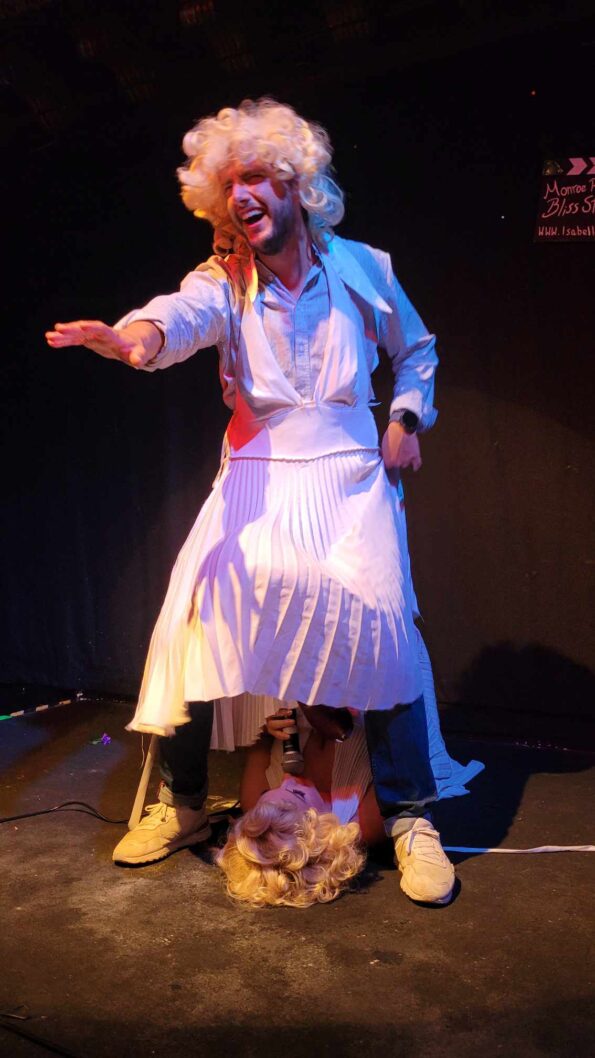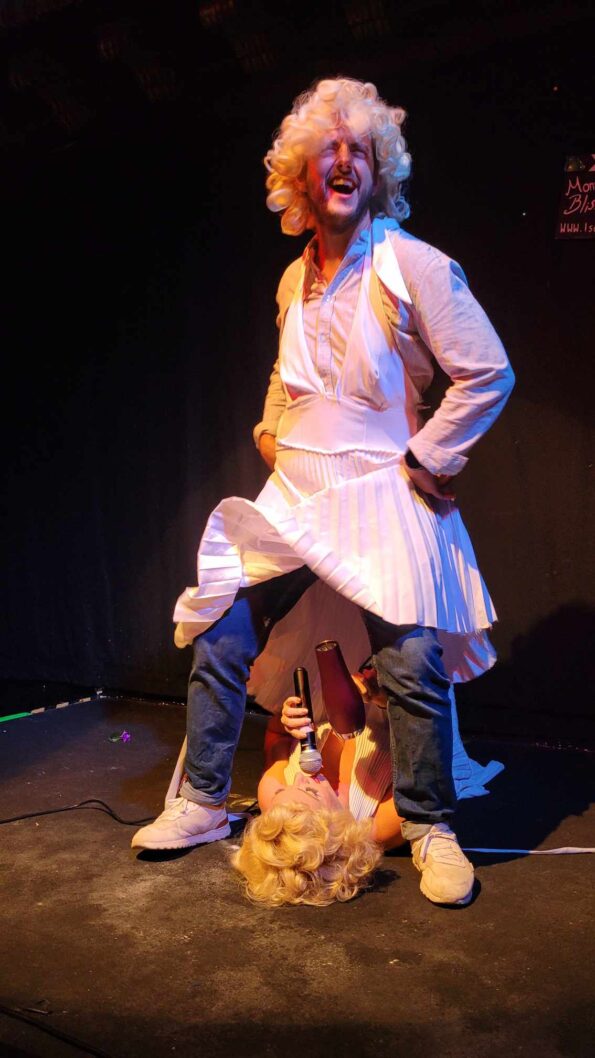 Another fantastic touch was when Isabella asked the audience to raise their glasses and she quoted the toast from "Gentlemen Prefer Blondes:"

"There was an old fellow named Sidney,
Who drank 'til he ruined a kidney.
He drank and he drank and it shrivelled and shrank..
He had his fun doing it… didn't he?!"

(both my sister and I just turned and looked at eachother and went "yeah.. that was a really cool reference to put in there.")
Some more audience participation came when 4 lovely ladies took to the stage to spell out the letters "L.O.V.E" in a fun rendition of the song!!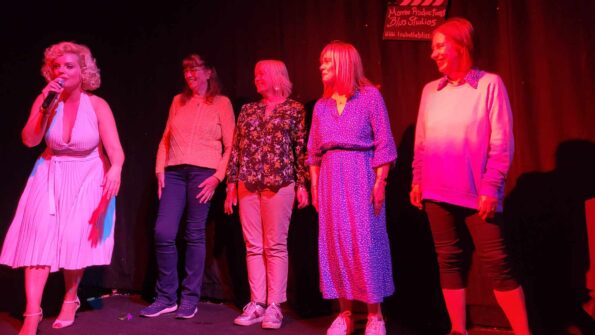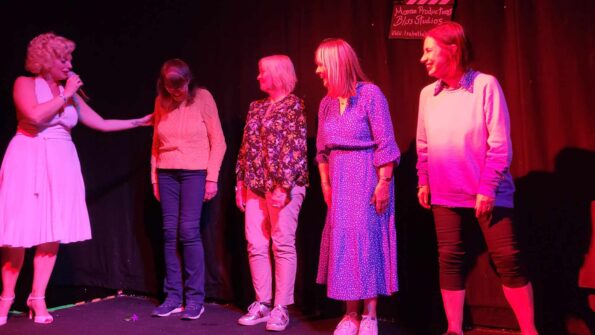 I cannot stress enough how much love Isabella put into her portrayal of Marilyn. Yes she was wearing the stereotypical White Halterneck dress, but she was showcasing EVERYTHING that is so iconic and legendary about our girl. Isabella was funny and witty… charismatic and charming.. she had the audience in the palm of her hand. Everything that you saw on stage was done with love and a cheeky wink!
At the end of the show, Isabella came out of her "Marilyn" persona and spoke as herself.. She came out of character to talk about how Marilyn should be celebrated for who she is, not always relying on tragic side, we should be championing her… She hated "Blonde," (urgh, didn't we all?!)and steered people towards the brilliant "Reframed" the latest documentary on Marilyn's life and career.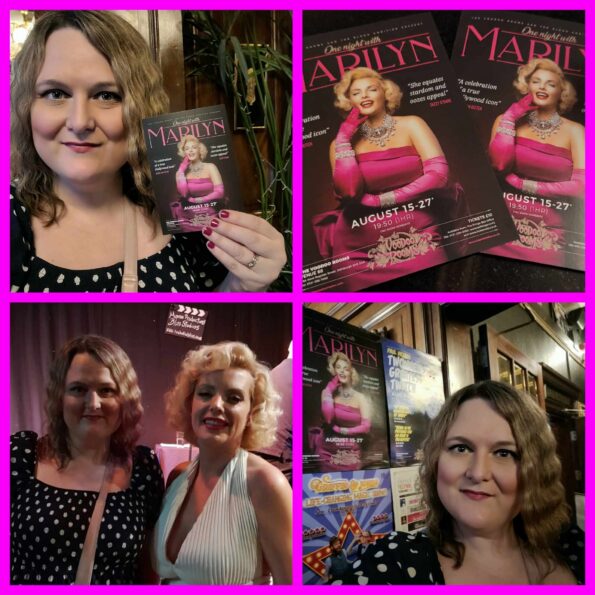 Isabella's love for Marilyn shines through and I urge you to see this show if it ever comes near your town.

If you would like to follow Isabella on social media, here are her accounts:
Socials: