An event 70 years in the making!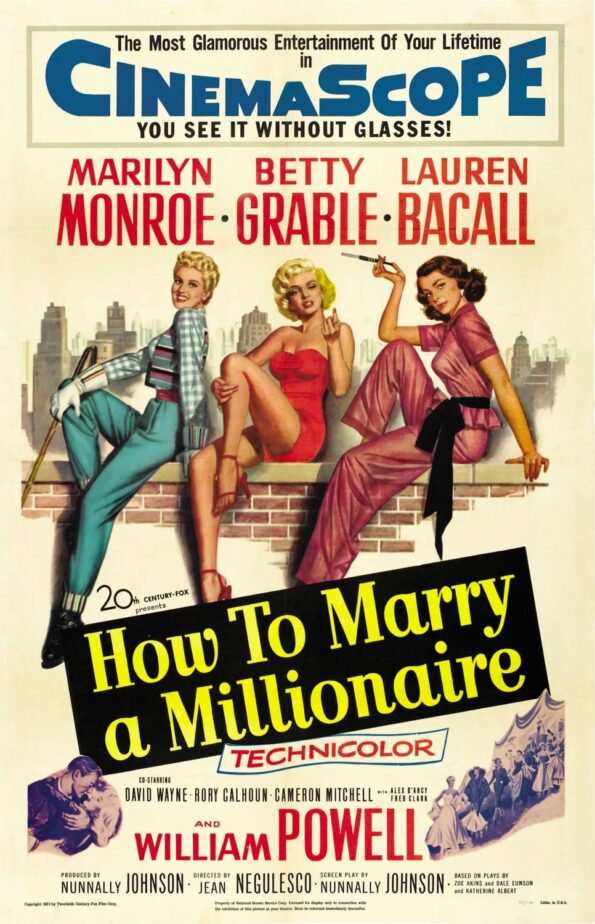 HOW TO MARRY A MILLIONAIRE is celebrating seven decades since its world premiere next month at the Saban Theatre in Beverly Hills, formerly the FOX Wilshire. The film premiered on November 04, 1953, with a who's who of attendees including Marilyn Monroe, Lauren Bacall, Humphrey Bogart, and Cecil B. DeMille, not to mention Debbie Reynolds, Mitzi Gaynor, Rock Hudson, Shelley Winters and more! Not only was it a star-studded premiere for the film, it was the second movie to premiere in the new technology CinemaScope.
To honor the occasion, the Los Angeles Historic Theatre Foundation is throwing a party on Saturday, November 04, 70 years to the day since the film premiered! The red-carpet event will open doors at 5:30pm for all the pre-show festivities including hosting a book signing with author, historian, and All Things Marilyn Podcast Co-Host Elisa Jordan with advance copies of her new book, HELLO, NORMA JEANE: THE MARILYN MONROE YOU DIDN'T KNOW, an exhibit of Marilyn Monroe memorabilia from the movie, cocktails with light food, and more to be announced in the coming days. The show begins promptly at 7:00pm followed by a panel conversation with special guests.
Marilyn Remembered Fan Club members are invited to the party and are receiving a very special discount code for entry. Tickets are on sale NOW! Enter the code MMR53 for the next 48 hours to receive $10 off your purchase price. There is more than one ticket price package available, starting at just $35. Tickets are available here.
The Saban Theatre is located on Wilshire at La Cienega in Beverly Hills with several parking options in the area to accommodate us all. You can even prepay your parking in the Larry Flynt Publications Building across the street as well as purchase your book in advance all through the ticketing platform prior to arrival.
While there is no dress code and we want everyone to join us, we do strongly encourage dressing in '50s fun attire, fashion for the time, or go all out.
If you have any questions at all, please email event organizers at [email protected]
We will see you on the 4th!