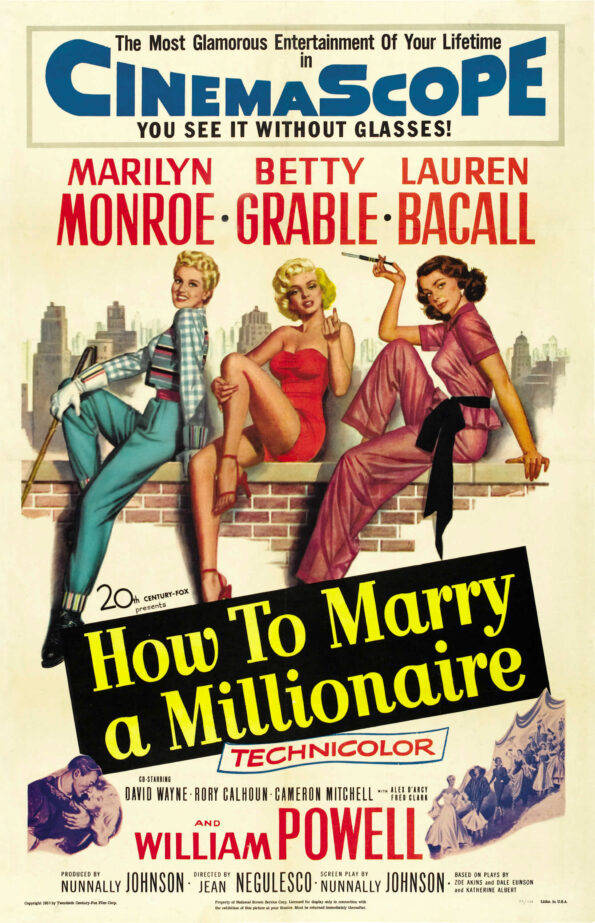 How to Marry a Millionaire is a 1953 American romantic comedy film directed by Jean Negulesco and written and produced by Nunnally Johnson. The screenplay was based on the plays The Greeks Had a Word for It by Zoë Akins and Loco by Dale Eunson and Katherine Albert
On November 4th 1953, "How To Marry A Millionaire" made its big screen debut at the Fox Wilshire Theatre (now the Saban Theatre), in Beverly Hills. Marilyn turned up on the arm of Nunally Johnson who wrote and directed the film, alongside Lauren Bacall and Humphrey Bogart. Betty Grable was not in attendance that night.
Marilyn, looking every inch the Hollywood icon that night, had borrowed a white crepe de Chine dress covered in rhinestones and finished the look off with long white gloves and an item from her own personal wardrobe, a white fur stole. Between her hairdresser Gladys Rasmussen and make up man Whitey Snyder, it took them 6 hours to prepare her for the evening. Marilyn glowed that night, it was a triumph from start to finish and Monroe was quoted as saying that it was "the most beautiful night of her life."
PLOT:
They're three beautiful models, looking for the man… and the money of their dreams!  Almost broke, they pool their funds to rent a posh Manhattan penthouse in which they plan to lure their victims.  But the gold diggers' plans suddenly go awry when two of them fall for men who appear to be poor!
Trying to stop each other from marrying the wrong guy, Monroe, Grable and Bacall deliver their finest comedic performances of their careers.  And they learn that a rich man is actually worthless — unless you're in love with him!
FUN FACTS:
* "How To Marry A Millionaire" went on to be the 4th highest grossing movies of 1953 and earned itself these award nominations:
'Academy Awards – Best Costume Design: Colour'
'Writers Guild Of America Award – Best Written Comedy.'
'British Academy Of Film Awards – Best Film Of Any Source.
* This was 20th Century-Fox's first CinemaScope feature, but it was not released until after "The Robe" (1953).
* During the exterior shots at the beginning of the movie, the camera pans up to a street sign that reads "Sutton Place" outside the building where the girls rent their apartment. Marilyn Monroe actually lived at 2 Sutton Place on the Upper East Side. She shared a penthouse apartment there with her husband, playwright Arthur Miller.
* Lauren Bacall's character, Schatze, says, "I've always liked older men . . . Look at that old fellow what's-his-name in "The African Queen" (1951). Absolutely crazy about him." She is referring to Bacall's then real-life husband, Humphrey Bogart.
* When Pola (Monroe) is modeling the red swimsuit, the description given of the outfit is: "You know, of course, that diamonds are a girl's best friend." Marilyn Monroe sings the number "Diamonds Are a Girl's Best Friend" in Gentlemen Prefer Blondes (1953), which was released the same year as this film.
* At one point Betty Grable's character, Loco Dempsey, hears a song by bandleader Harry James on the radio but doesn't recognize it. James was Grable's husband in real life.
* Hollywood legend has it that Marilyn Monroe, who had already rocketed to major stardom in Gentleman Prefer Blondes (1953), was befriended during filming by Betty Grable who offered her this encouragement: "Honey, I've had mine. Go get yours."
* George Chakiris who won an Oscar for his role in "West Side Story" appears briefly in the dream sequence involving Marilyn and her beau Alex D'arcy.
* As of October 2019, "How To Marry A Millionaire" has an average rating of 6.9/10 on imdb.com
MARILYN'S WARDROBE:
Marilyn and her co-stars wear an array of stunning outfits designed by Oscar winning designer William Travilla, who was also responsible for creating Monroe's white dress from "The Seven Year Itch" and the 'Diamonds Are A Girls Best Friend' dress from "Gentlemen Prefer Blondes."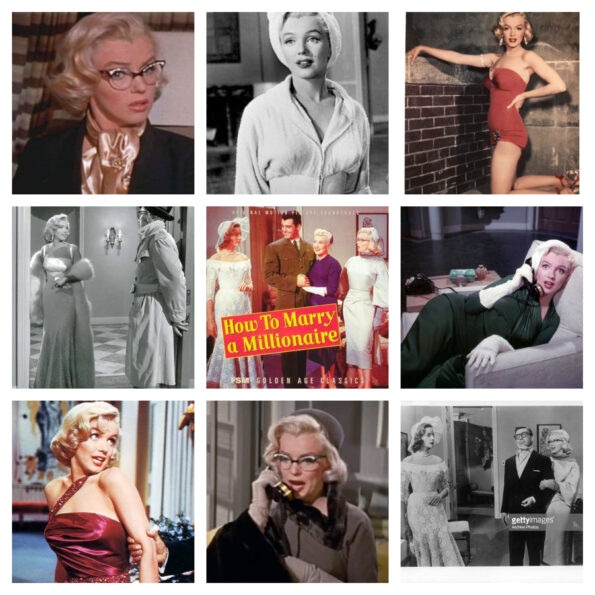 MEMORIES OF MARILYN:
Lauren Bacall:

"She wasn't easy – often irritating. And yet I couldn't dislike Marilyn. She had no meanness in her – no bitchery. She just had to concentrate on herself and the people who were there only for her."
Betty Grable:


"It may sound peculiar to say so, because she is no longer with us, but we were very close. Once when we were doing that picture 'How To Marry A Millionaire' together, I got a call on the set: my younger daughter had had a fall. I ran home and the one person to call was Marilyn. She did an awful lot to boost things up for movies when everything was at a low state; there'll never be anyone like her for looks, for attitude, for all of it. "
David Wayne:


"Negulesco (the Director) was very good with her and handled her beautifully. Of course she was always late, but I don't think either Betty Grable or Lauren Bacall minded her. They were tough old pros and knew their business. There again, I also recall Marilyn being quite capable in her scenes with the other two girls. I wasn't necessarily in the scene with them, but I'd sit next to Negulesco and watch the three of them work and by that time I thought that Marilyn had got a little technique under her belt."
Nunnally Johnson:


"The two Bettys have gone out of their way to help, and make friends with Marilyn, but Miss Monroe is generally something of a zombie. Talking to her is like talking to somebody underwater. She's very honest and ambitious and is either studying her lines or her face during all of her working hours, and there is nothing whatever to be said against her, but she's not material for warm friendship."
CRITICS' RESPONSE:
"Betty Grable, Lauren Bacall and Marilyn Monroe give off the quips and cracks, generously supplied by Nunnally Johnson, with a naturalness that adds to their strikingly humorous effect, making the film the funniest comedy of the year"  (NEW YORK DAILY NEWS)
 "The big question, 'How does Marilyn Monroe look stretched across a broad screen?' is easily answered. If you insisted on sitting in the front row, you would probably feel as though you were being smothered in baked Alaska. Her stint as a deadpan comedienne is as nifty as her looks. Playing a near-sighted charmer who won't wear her glasses when men are around, she bumps into furniture and reads books upside down with a limpid guile that nearly melts the screen….How To Marry A Millionaire is measured, not in squire feet, but in the size of the Johnson-Negulesco comic invention and the shape of Marilyn Monroe – and that is about as sizable and shapely as you can get."  (NEW YORK HERALD TRIBUNE)
"It is particularly noteworthy that Miss Monroe has developed more than a small amount of comedy polish of the foot-in-mouth type." (NEW YORK POST)
THE MARILYN MONROE SITE AND THE MARILYN MONROE COLLECTION:
"Marilyn Remebered"'s very own Greg Schreiner and Scott Fortner are the proud owners of several items relating to "How To Marry A Millionaire" as documented here:
THE MARILYN MONROE SITE: THE COLLECTION OF GREG SCHREINER
http://www.themarilynmonroesite.com/
A flowing purple gown, designed by Oscar winning designer William "Billy" Travilla, worn for Marilyn's dance scene with Lauren Bacall in the penthouse apartment.  Ultimately, this scene was cut from the final production.  However, there are several photos of Marilyn wearing this costume.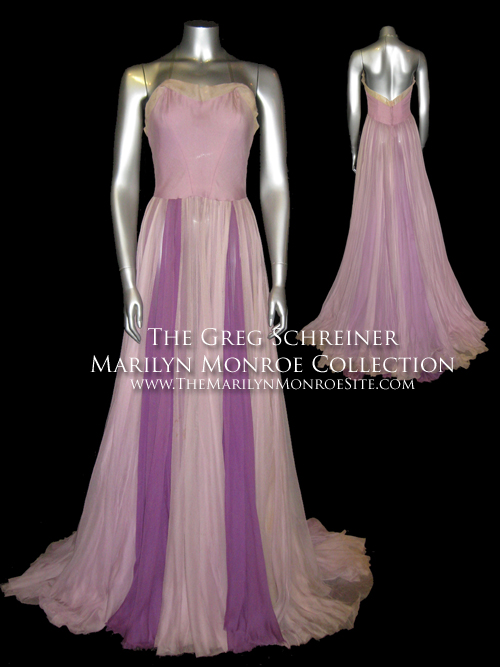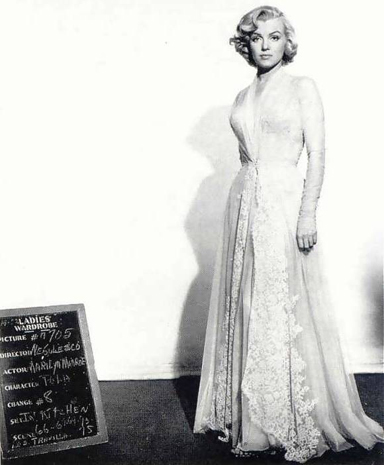 The original hat to a costume designed by William "Billy" Travilla for Marilyn to wear in the film's fashion show. However, Marilyn's obvious dislike of this outfit was shown in her test shot for the film, indicated by her hand being placed over her face. Ultimately, this costume was worn by an extra in the fashion show. All that remains of the original costume is this hat.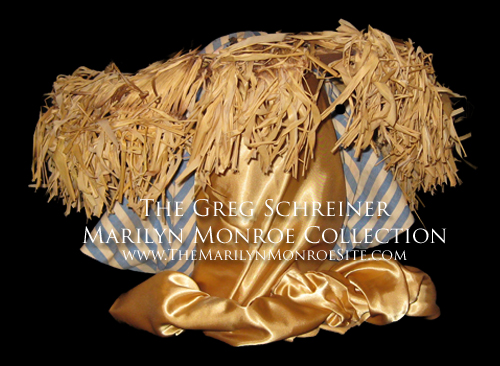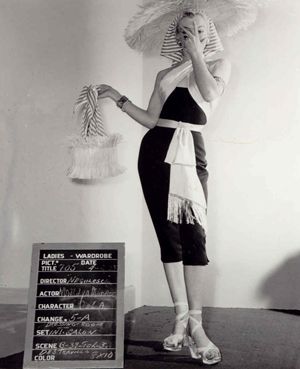 THE MARILYN MONROE COLLECTION: THE COLLECTION OF SCOTT FORTNER
http://themarilynmonroecollection.com/