The Marilyn Remembered Fan Club 
Celebrating our 40th Anniversary!
---
We are proud to announce that August 5, 2022, marks our 40th anniversary.  Established in 1982, Marilyn Remembered is the longest running Marilyn Monroe fan club in existence today.
Marilyn Remembered was founded by Greg Schreiner, Teresa Seeger, Catherine Seeger, and Anthony Cordova. These four lifelong Marilyn Monroe fans met by chance on August 5 at Marilyn's grave at Westwood Village Memorial Park. They had come to remember Marilyn on the anniversary of her passing. While at Westwood they discussed the fact there were no fan clubs for Marilyn at that time, and also no formal memorial service, and thus the Marilyn Remembered Fan Club was born. Their mission: To preserve the memory of Marilyn Monroe with dignity and grace.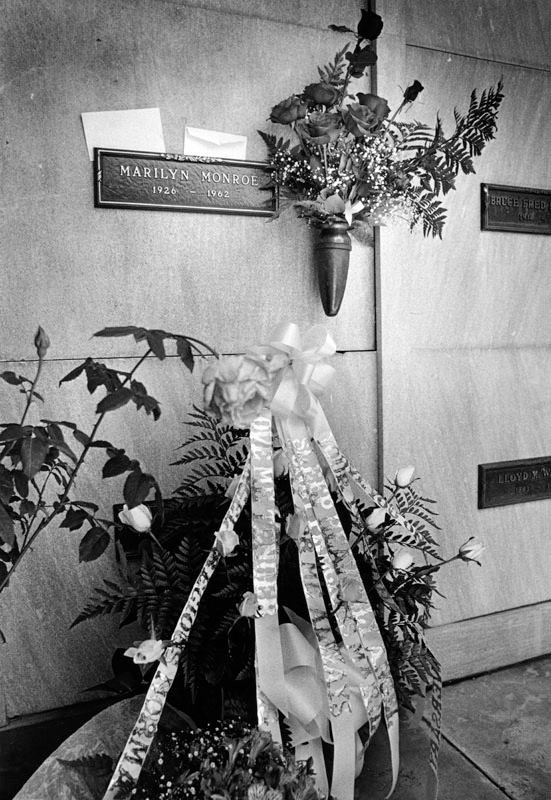 Word about our club spread quickly through friends and the media. Soon, monthly meetings were held at Greg's home and we started hosting a memorial service for Marilyn every year. Before the Internet and email, Greg would call fan club members individually to let them know about the next meeting. He started to reach out to people who were directly associated with Marilyn, asking them to speak at meetings and the memorial service. Over the years, we have hosted countless people who knew Marilyn personally and worked with her professionally. Speakers at our events have included award winning actors, film industry professionals, studio executives, Marilyn's photographers and hairdressers, and even her first husband and foster family members. We've also hosted a number of topnotch book authors.
Below is a partial list of Marilyn Remembered guest speakers and presenters throughout the last 35 years:
Other guest speakers and presenters included:
A.C. Lyles, Writer and Producer, Paramount Studios
Adele Jergens, Actress, "Ladies of the Chorus"
Barbara Smith, Actress, "A Ticket to Tomahawk"
Bebe Goddard, Marilyn's Foster-Sister
Darlene Hammond, Photographer
Diana Herbert, Actress, Daughter of F. Hugh Herbert, Writer/Director on "Scudda Hoo! Scudda Hay!"
Frank Durheimer, Dancer, "Gentlemen Prefer Blondes"
Gene Allen, Art Director, "Something's Got to Give"
Gladys Wilson, Marilyn's Junior High Classmate
Jack Clemmons, Los Angeles Police Officer
James Spada, Author
Jimmy Morrissey, Marilyn's Hairdresser
John Gilmore, Actor and Author
Kathleen Hughes, Actress
Lois Banner PhD, Author
Mamie Van Doren, Actress
Maurice Zolotow, Author
Michael Woulfe, Costume Designer, "Clash by Night"
Mickey Song, Marilyn's Hairdresser
Nancy Bolender Jeffries, Marilyn's Foster-Sister
Sandra Ferrell, Actress, "Monkey Business"
Stanley Rubin, Producer, "River of No Return"
Susan Bernard, Actress, Daughter of Bruno Bernard, Bernard's of Hollywood
Terry Moore, Actress
Initially, Marilyn Remembered was primarily a Los Angeles based club. Today, due to the Internet and social media, the club consists of thousands of Marilyn fans from around the world. Thanks to modern technology, we are able to live stream our events, including the annual Marilyn Monroe memorial and birthday party, which provides fans everywhere the opportunity to observe and participate.
Through the years, Marilyn Remembered has been recognized for its expertise and knowledge of Marilyn Monroe. The club and its members were featured in the documentary film "With Her," and we are frequently contacted by the media, authors and industry professionals for our views and opinions on Marilyn's personal life, and her professional acting and modeling career, and for authentication of items from her personal estate.
Marilyn Remembered leadership and members have amassed an extensive collection of memorabilia, including Marilyn Monroe film worn costumes, publicity gowns and personal effects that have been exhibited in the US, Japan, Canada, Italy, Australia and the Czech Republic.
Marilyn Remembered president Greg Schreiner and a group of dedicated Marilyn Monroe fans, consisting of Ashlee Davis, Elisa Jordan, Hazel Birdsall, Jackie Craig, Lorraine Nicol, and Scott Fortner, maintain and lead club activities by managing our online presence, along with planning and arranging meetings and events.
Marilyn Remembered would like to thank its members and worldwide following for their support over the last 40 years as we preserved Marilyn's memory with dignity and grace. We will continue with this mission.
If you'd like to join us, please sign up for our mailing list here.  To receive news, information and updates on Marilyn Monroe and the Marilyn Remembered Fan Club, please join our Facebook Group.  You can also follow us on Twitter and Instagram.  Marilyn Remembered membership is open to all Marilyn Monroe fans, and membership is free.