​The Edinburgh Festival Fringe is an annual event in the city showcasing talents in all the major entertainment fields: Music, Comedy, Dance and Theatre. The city is crammed with tourists, street performers, stalls, daily shows.. the atmosphere is electric!
Most years, they always seem to have a Marilyn themed show and this year was no exception.  "Norma" made its debut  Edinburgh Festival Fringe performance on August 15th 2023 and our very own Lorraine Nicol attended the performance and has shared her thoughts.
The description of the show is as follows:
"Norma Jeane Mortenson (more famously known as Marilyn Monroe) once reportedly said, 'it takes a smart brunette to play a dumb blonde'. This one-woman show aims to challenge the way Monroe has been portrayed by the media after her death while also aiming to be the most historically accurate (as possible) play about her life and imagines what she might think about of all the media that has been created about her, including the controversial Netflix film Blonde from 2022. Norma is a show that celebrates Norma Jeane, her intelligence, her wit, her heart and her incredible strength."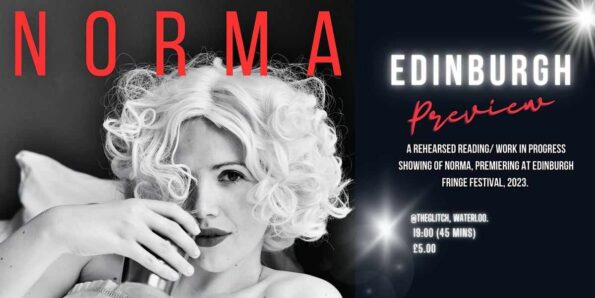 Review from Marilyn Remembered's Lorraine Nicol:
"Having seen so many Marilyn themed plays and performances which have ranged from brilliant, to quite frankly.. hideous.. I'm always a little wary of what I am walking into when I attend one.
However, I was intrigued by the idea that the play would focus on her image in the media after her death and the promise of it being the "most historically accurate" play on Monroe's life.. that's quite a statement!  So I was hoping it would live up to it.
The play started with the lights dimmed and the actress portraying Marilyn (Olivia Denton) had her back turned to the audience, whilst a spotlight shone on her.  "I wannabe Loved By You" started playing, which then turned into the famous audio clip of Peter Lawford introducing Marilyn on stage the night of the "Happy Birthday Mr President" performance… it then quickly cut to a clip of Kim Kardashian talking about her experience wearing/destroying the same dress in 2022 (let's not go there) and a montage of other notables talking about Marilyn in the past and present tense.
The lights come up and Olivia Denton is in full Marilyn get up.  Her make-up is beautiful, but I do feel she could have invested in a better wig and this is one of several Marilyn plays I have seen where she is portrayed telling her life story from the afterlife only wearing a white bath robe.. why is that?  Why does that seem to be the go-to outfit?  I would much prefer if they had her in slacks and a pucci style top, as was her choice of wardrobe before she passed away in 1962.. it would still give that relaxed style and feel they would be looking for…
However this is all very nit-picky.. as I say, Olivia Denton on the whole looked beautiful and sounded great too, as she really had a good grip on Marilyn's voice and mannerisms.
"Marilyn" briefly starts off by mentioning a few things related to her that have (rightly or wrongly) made an impact around the world like the Netflix drama "Blonde" that was released in 2022.. (she thankfully announces to the audience that the film was a complete work of fiction and utter nonsense) and the contoversy surrounding the giant 26ft "Forever Marilyn" statue in Palm Springs.. protestors arguing that it shows a clear view of Monroe's backside and underwear and has been called sexist by critics... "Marilyn" simply brushes it off, quoting "if I'm going to be a symbol of something, I'd rather have it sex than some other things they've got symbols of."  (which Marilyn herself did actually say in 1962 during an interview for LIFE Magazine.)
"Marilyn" then takes you through a quick re-telling of her life and whilst mainly accurate, I feel this is where the play lets itself down. Marilyn's life story has been done so many times before, there are literally hundreds upon hundreds of books on her life and with the play being only 40 mins long, I feel this time could have been used more wisely and taken a fresh new direction.  As I say, I liked the idea of addressing how Marilyn's legacy has been portayed in the media over the years, I would have preferred some more examples of that..  She DID however, briefly touch on the whole Kim Kardashian "Happy Birthday Mr President" Dress scandal at the end, to which I let out a massive "Boooo!" when "Marilyn" asked had anyone heard about Kim wearing the special garment.
Whilst you can tell Olivia (who also wrote the play) knows her stuff when it comes to Marilyn (accurate life details and genuine quotes throughout the performance)  I didn't agree with her stating that Joe DiMaggio had beaten Marilyn up the night of the filming of the up-skirt scene from "The Seven Year Itch" (to which an audience member gasped "oh my god!" and that Arthur Miller's diary entry said that he found Marilyn to be a "troublesome b**** and a w****"  Although rumour and speculation is rife, we will never know EXACTLY what was written in Arthur Miller's journal and we will NEVER know EXACTLY what happened between Marilyn and Joe the night of the "Seven Year Itch" filming in New York, so it's wrong to present it as fact.. as I say, this play was only 40 mins long, there are so many other aspects of Marilyn's life and relationships with her husbands that could have been touched on.
When it came to the end of Marilyn's life, Olivia came out of character and spoke as herself, she felt she didn't feel it was right to speak for Marilyn in regards to her ending.  She deliberately didn't want to address all the rumours and conspiracy theories of her death, instead reading the final lines from the childrens book of Marilyn's life: "Little People: Big Dreams: Marilyn Monroe."  Olivia said she felt proud as a former Teacher that Children can read about Marilyn as an inspirational person.  I really thought this was touching and very fitting end.
Olivia's portrayal of Marilyn was a very loving and sympathetic one.. however there was no sign of her being seen as a victim here, as she was quick to point out Marilyn's strengths, ie never having been a kept woman or a victim of the casting couch and turning down Harry Cohen's advances, leading to her being dropped from her contract at Columbia.  She was fun, warm and vibrant and you could really feel a sense that Olivia truly IS a Marilyn fan and this was her love letter to her."
"Norma" is on at the Edinburgh Festival Fringe until 19th August.  Tickets here: https://tickets.edfringe.com/whats-on/norma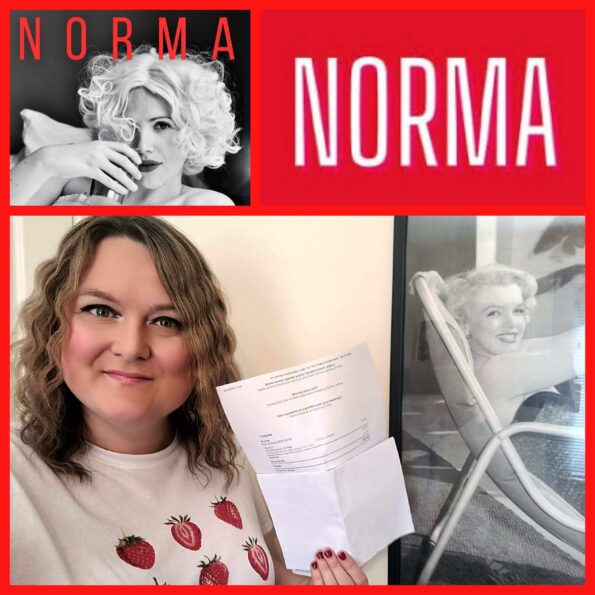 Lorraine Nicol before attending the performance of "Norma" at the Edinburgh Festival Fringe.