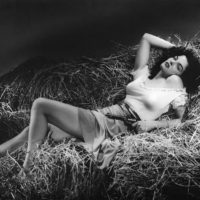 Today we are taking a brief look at the life and career of Jane Russell who was born on this day in 1921. Jane was born Ernestine Jane Geraldine Russell in Minnesota, the only girl out of five children. Her father was in the US Army and her mother was an actress. After a brief move to Canada the family settled in Southern California where Jane attended Van Nuys High School along with a young man named James Dougherty, the future husband of Norma Jeane Mortenson.  After graduating high school Jane worked as a receptionist. She did a little modeling on the side and studied acting at Max Reinhardt's Theatrical Workshop.
In 1940 she was discovered by Howard Hughes and he signed her to a seven year contract. Her first role was in The Outlaw which was filmed in 1941 but not released until 1943 due to problems with the Hays Code over her ample cleavage. Hughes reportedly designed a special bra for her to wear in the film but in her autobiography Jane said that the bra was extremely uncomfortable and she ended up wearing her own, with Hughes being none the wiser.
Although she co-starred with some of the most popular actors of the era – Frank Sinatra, Bob Hope, Clark Gable, Victor Mature, Vincent Price and Robert Mitchum (another alum of Van Nuys HS) – she is best remembered today for her role as wise-cracking Dorothy Shaw alongside Marilyn Monroe in Gentlemen Prefer Blondes.
Jane was married three times (her first marriage to her high school sweetheart lasted 25 years) and adopted three children.
She died on 28th February 2011 at the age of 89 in Santa Maria, California.