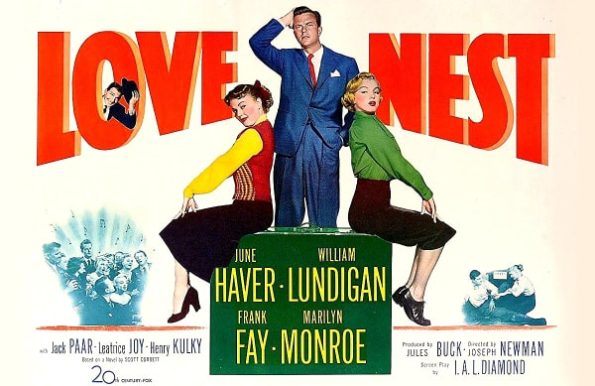 "Love Nest" is a 1951 American comedy-drama film directed by Joseph Newman and starring June Haver, Frank Fay, William Lundigan and Marilyn Monroe, in one of her earlier screen credits.  The film, released by Twentieth Century FOX, opened on October 10th 1951 to mild success  It was meant to be nothing more than a B-picture for FOX and would widely be forgotten today if it wasn't for Monroe's ever expanding fanbase and their desire to see her entire body of work.  It is however, a very fun and light hearted comedy, with notable preformances by June Haver an Frank Fay, in his final film appearance.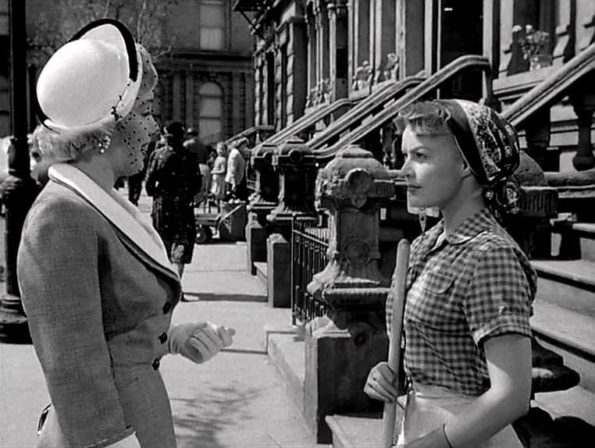 PLOT:
"After two and a half years of military service in Paris, aspiring novelist Jim Scott returns to New York and the rundown Gramery Park brownstone that his wife Connie has purchased with most of their savings.  The rooming house is mortgaged to the hilt and, despite the revenue from the tenants, the couple are running at a loss, yet Connie assures Jim that it is a great investment that will soon pay for itself.  Living in the basement, they suffer noises from the drainpipes and the local fire service, and Jim has little time to write while dealing with the tenants' complaints and his wife's jealousy over one of the new people paying them to rent, ex-WAC Roberta "Bobbie" Stevens– a buxom blonde who was stationed with Jim in Paris.
Another new tenant, meanwhile, is Charley Patterson, a dapper conman who swindles rich widows out of their money, Connie strongly suspects what Charley is up to and she is therefore concerned when he woos and marries Eadie, a kindly widow living in the same building.  Still, Connie and Jim have their own problems to think of, not least of which is the news that their building must either be rewired or condemned."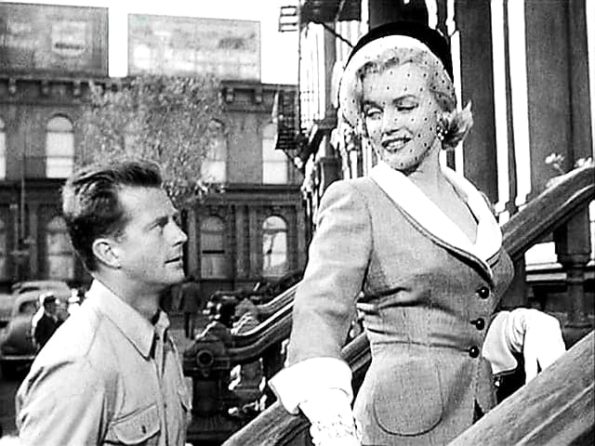 FUN FACTS:
* Unimaginatively titled "The Reluctant Landlord" when I.A.L Diamond began work on the screenplay in December 1950, it was renamed "A WAC In His Life" when shooting began on April 18th 1951, illustrating how the studio wanted to draw attention to Marilyn's role.  The only problem was her lack of screen time; thus the change to "Love Nest."
*As early as December 21st 1950, Darryl Zannuck suggested in a memo to producer Jules Buck, I.A.L Diamond and Zanuck's assistant Molly Mandaville that they "work Roberta into the last part of the story more," and innocently involve her with Jim after he has a row with Connie and uses Roberta's empty apartment to sleep.
*Because the bathing suit that Marilyn wears in the film was so risqué (for the time) and caused such a commotion on the set, director Joseph M. Newman had to make it a closed set while she was filming.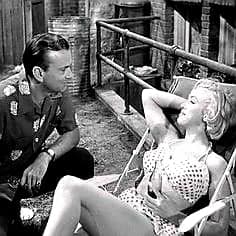 *The Hollywood film industry's censorship board, commonly known as the Hays Office, reviewed all screenplays to ensure strict adherence to the Production code by the studios.  The censors had no objection to Roberta.  The script was submitted for review at the regular intervals but it was impossible to tell how coquettish the character could be when played by Marilyn.  When the censors did find crude references to a toilet in comic dialogue between Jim and Connie about the building's plumbing problems.  These lines were cut from the script.
* "Love Nest" was filmed entirely on the backlots of "Twentieth Century FOX" studios in Los Angeles, California.
* Marilyn Monroe doesn't appear in the film until the 31st minute, so bare that in mind if you have never seen this movie.
* According to a contemporary Hollywood Reporter articles, Anne Baxter then Jeanne Crain were scheduled to star in this film.
* "Love Nest" marked the entrance of I.A.L Diamond into Marilyn's professional life.  This light post-World War II comedy, was the first of four scripts he wrote for Marilyn, the others being: "Let's Make It Legal," "Monkey Business" and "Some Like It Hot" (with his writing partner Billy Wilder.)
* In 2014, the "Marilyn Monroe History" channel on YouTube uploaded the movie in its entirety and as of October 2019, has amassed over 360,000 views!
* As of October 2019, "Love Nest" has a rating of 6.3/10 on imdb.com
MARILYN'S WARDROBE:
Despite Marilyn's limited screen time in this movie, she makes the most of it with an array of stunning costume changes

The brown suit Marilyn wears briefly in the film was last put up for auction in 2011, but surprisingly went unsold.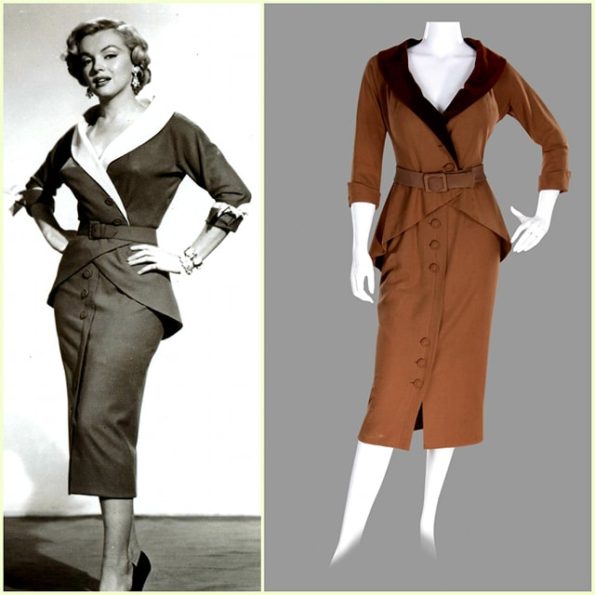 MEMORIES OF MARILYN: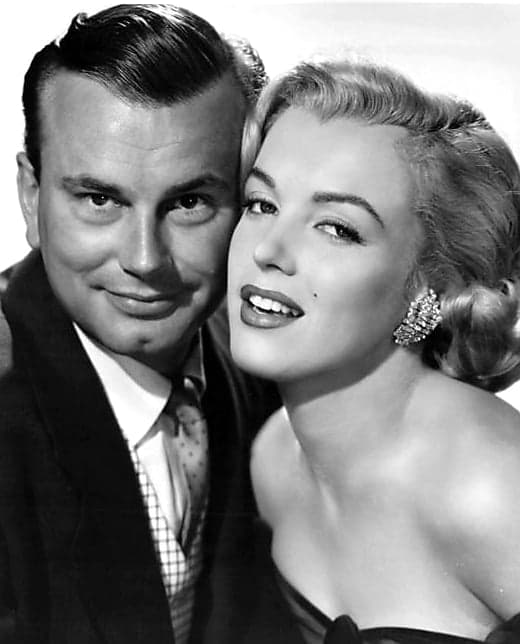 Jack Paar, who played Marilyn's love interest in the movie remembers:
"Looking back, I guess I should have been excited, but I found her pretty tiresome.  She used to carry around books by Marcel Proust with their titles facing out, but I never saw her read one.  She was always holding up shooting by talking on the phone.  Judging from what's happened though, I guess she had the right number."
CRITICS' RESPONSE:
"Frank Fay romps off with honours as the wily middle-aged Romeo, Marilyn Monre's shapely figure and blonde beauty make her part as a temptress a standout."  (HOLLYWOOD REPORTER)
"Love Nest" is a mild variety of comedy which gets a considerable boost from the expert talents–in that line — of Frank Fay… Leatrice Joy is also present in this number.  She gives mature warmth to the proceedings.  Marilyn Monroe has that other quality."  (FILM DAILY.)
Pick up your copy of "Love Nest" on DVD today:  https://www.amazon.co.uk/Love-Nest-DVD-June-Haver/dp/B000F3AIFY/ref=sr_1_3?keywords=marilyn+monroe+love+nest&qid=1570460151&sr=8-3
Sources:
imdb.com
"Blonde Heat: The Sizzling Screen Career Of Marilyn Monroe"
"Marilyn Monroe: Platinum FOX"