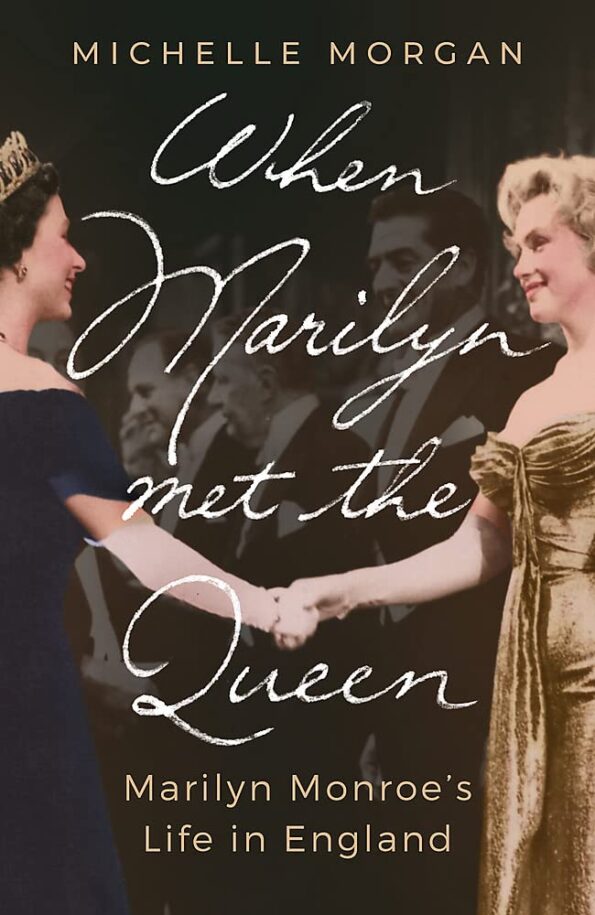 MICHELLE MORGAN, a name that in recent years has become a staple in every Marilyn fan's vocabulary.  Over on our "Marilyn Remembered" Facebook group, one of the most commonly asked questions is "what is your favourite Marilyn biography?" and an overwhelming amount of people will always answer with the same response: "Marilyn Monroe: Private And Undisclosed" by Michelle Morgan (2007).  Not since Donald Spoto's 1993 mammoth book titled "Marilyn Monroe: The Biography" have fans universally come together and heaped praise on such a well researched, loving tribute to Monroe's life and career.
Michelle Morgan is no stranger to researching and writing about Miss Monroe, "When Marilyn Met The Queen"  will be the author's 6th title release in regards to Monroe's life and legacy: "Marilyn's Addresses" (1995) "Marilyn Monroe: Private And Undisclosed" (2007) "Before Marilyn" (2015)  "The Girl: Marilyn Monroe, The Seven Year Itch And The Birth Of An Unlikely Feminist" (2016) and "The Little Book Of Marilyn" (2019) have all received rave reviews and the Marilyn community have come to trust Morgan as one of the most reputable Monroe authors out there.
"When Marilyn Met The Queen" has easily been the most highly anticipated book release on Marilyn's life and career for a very long time.  It's hard to believe that such an iconic time period in Marilyn's life has never been given the treatment it deserves (until now!)  Marilyn Monroe had recently married Arthur Miller and whilst the two were honeymooning in London, Marilyn at the same time was filming "The Prince And The Showgirl," the now legendary film because of the turbulent time Monroe and her co-star and director Laurence Olivier were going through.  This entire time period of Marilyn's life is fascinating, so it's thrilling to finally say we have an entire book dedicated to it!
Of course, this book couldn't have been written by just anyone… Michelle Morgan brings this time period to life in such a way that you can literally feel her passion for it coming through in each and every page.  She says herself that this book was 30 years in the making… just knowing that makes you love this book all the more!
As with her previous books, Michelle Morgan does her research! and takes the time to interview people who have never been interiewed before!  it's a real indepth look at Marilyn's life and career during the 4 month period of her time in England.  You'll learn so many new tidbits, anecdotes and stories from from people who actually around in 1956 and witnessed first hand what it was like to have a superstar like Monroe amongst them.  And another reason why Michelle Morgan is so good at what she does?  Her sources!  You will literally gasp at the huge amount of sources accumulated for this book, spanning nearly 50 pages!
From a personal point of view, I myself am from the United Kingdom and I LOVE the fact that Marilyn spent as long as she did here.  Michelle does a fantastic job of transporting you to the UK in 1956, making you feel like you were really there with her! I hope that other fellow UK fans take this book to their hearts as much as I have.
This book is an absolute must have for your collection.
In conclusion, a HUGE 5/5 Stars!
ABOUT THE AUTHOR:
Michelle Morgan is the author of many Hollywood related books, including "The Girl: Marilyn Monroe, The Seven Year Itch, and The Birth Of The Unlikely Feminist."  She has spoken at the National Portrait Gallery and the Victoria and Albert Museum; and appeared in several documentaries, including "Artists in Love: Marilyn and Arthur."  Michelle lives in Northamptonshire.