Today we are wishing Jane Russell a very happy birthday on what would have been her 98th birthday.  Russell was an American film actress and one of Hollywood's leading sex symbols in the 1940s and 1950s.  She had a career in Hollywood spanning 4 decades and some of her biggest hits included: "The Outlaw," "The Tall Men," "Underwater!" and "The Las Vegas Story."

In a publicity still for her first motion picture and box office hit "The Outlaw."  This provocative shot saw her catapulted into stardom.
Of course, undoubtably, her biggest screen success came with the release of "Gentlemen Prefer Blondes" alongside Marilyn in 1953.  Monroe and Russell got along famously and throughout the years, right up until Janes death in 2011, she never had a cruel or unkind word to say about her co-star.
"I didn't experience any of the lateness or unprofessionalism you hear about, that came way later. She worked very hard and always knew her lines and was absolutely determined to get ahead." Russell remembers, "we got along very well and when I found out she was a little nervous about going out on the set, I'd stop by her dressing room and you know, say 'come on Blondel, it's time to go! We're due…' and she'd say 'oh! alright Jane' and we'd trot on the set together."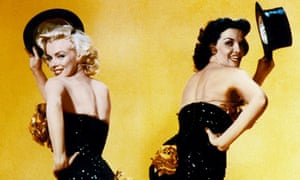 Happy Birthday Jane Russell, you are forever missed.