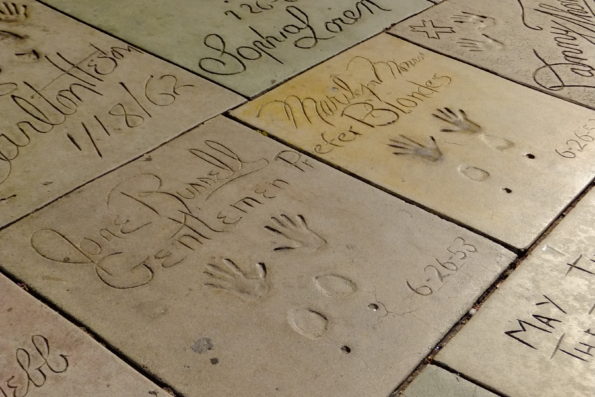 "I'll never forget Marilyn saying, "It's for all time, isn't it?" "Yes," I told her, "it's for all time, or as long as the cement lasts." She made me cry, she was so sweet. I believed in her. We made a hell of a team and I wish we had done another picture together."
– Jane Russell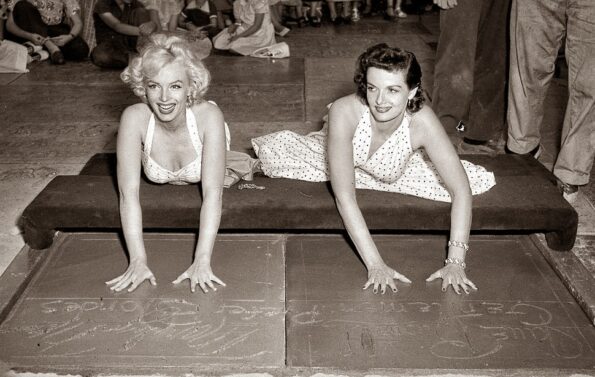 June 26th 1953 marks an incredible 65 years since Marilyn Monroe and Jane Russell both placed their hands and feet in wet cement and were forever immortalised in the forecourt of the famous Grauman's Chinese Theatre on Hollwood Boulevard. "Filmdom's first blonde and first brunette" as the newsreels proclaimed, earned their place in the forecourt of the movie theatre as promotion for their up and coming feature film "Gentlemen Prefer Blondes," which was due to hit theatres on July 1st, 1953.
"When I was younger, I used to go to Grauman's Chinese Theatre and try to fit my foot in the prints in the cement there. And I'd say "Oh, oh, my foots too big. I guess that's out." I did have a funny feeling later when I finally put my foot down into that wet cement, I sure knew what it really meant to me, anything's possible, almost."
On some occassions however, Hollywood stars would also leave the imprint of something more suited to their personalities .. Betty Grable, famous for her 'Million Dollar Legs' left her leg imprint and Joe E. Brown famous for his… well… large mouth, left his mouth imprint! Marilyn had the rather fun and cheeky suggestion that she should sit down in the wet cement and Jane Russell should lean over in the wet cement, leaving their most famous assets immortalised for the whole world to see! Unfortunately, this request was denied. Instead, Marilyn dotted the "i" in her name with a rhinestone (which was sadly chisled out soon after.) Across both squares the ladies wrote "Gentlemen Prefer Blondes" forever tying them together with such a wonderful movie. I wonder how many tourists have watched the film after seeing its name in wet cement?
Here we are, 65 years on and Marilyn's hand and footprints are still by far the most popular and most photographed at Grauman's Chinese Theatre. Of course, it wasn't just Marilyn's big day, Jane Russell was right by her side. Taken from "Jane Russell: An Autobiography," Jane shared her thoughts on the day:
"Marilyn and I were invited to add our footprints to those already cemented in at Grauman's Chinese Theatre on Hollywood Boulevard. We were both wearing summer dresses and high heels as we posed, arms linked together, for the photographers. We were thrilled beyond words. While I was placing my my feet in that square of soggy cement, I thought of all the times when Pat Alexander and I tried to fit our feet in the footprints of various actresses and how we figured that they must have worn the tiniest shoes for the occassion. Our feet never fit in. Now my prints were in that cement and I couldn't believe it. I'm sure Marilyn felt the same. Always one for personal comfort, I was wearing my usual big shoes, so no aspiring actress will have any trouble whatsoever getting their feet into my footprints!"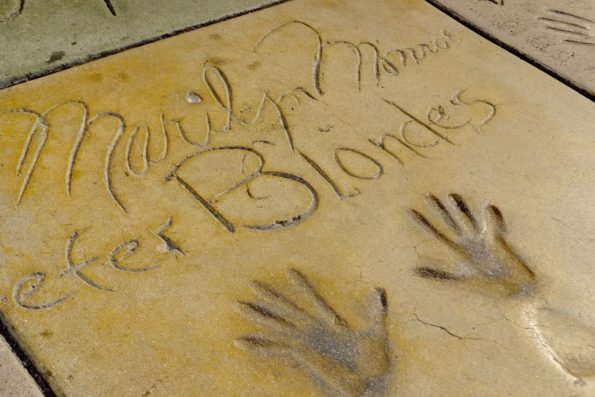 The forecourt is nearly full to the brim with the hand and footprints of famous names spanning the last 8 decades. You can definitely spend an entire afternoon feasting your eyes on the imprints of old favourites and new talents.
There are also plenty of Marilyn's contemporaries immortalised at Grauman's Chinese Theatre. They include:
Jack Lemmon
Co star in "Some Like It Hot." He had a joint imprint ceremony with Shirley MacLaine as promotion for "Irma La Douce." Notice Jack has left a cork imprint after toasting the occassion with a bottle of bubbly!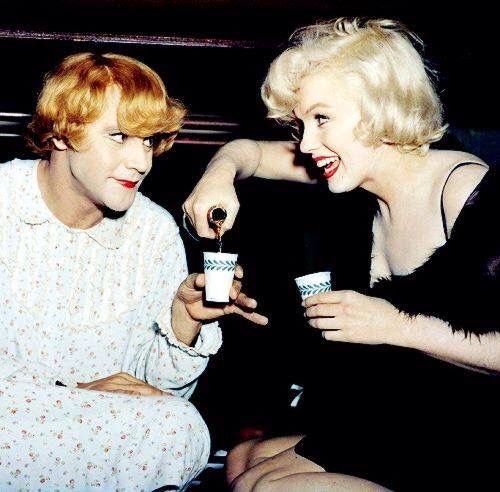 Anne Baxter
Co star in "All About Eve."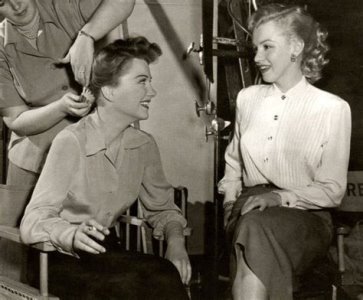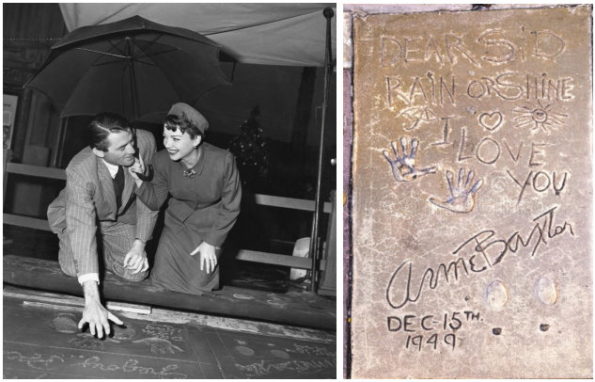 Bette Davis
Co star in "All About Eve."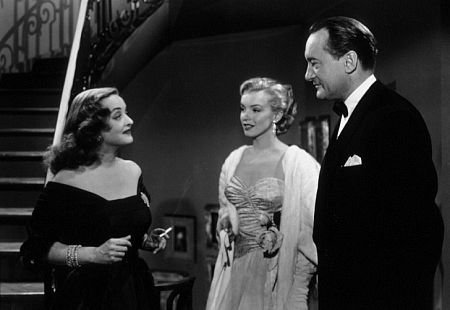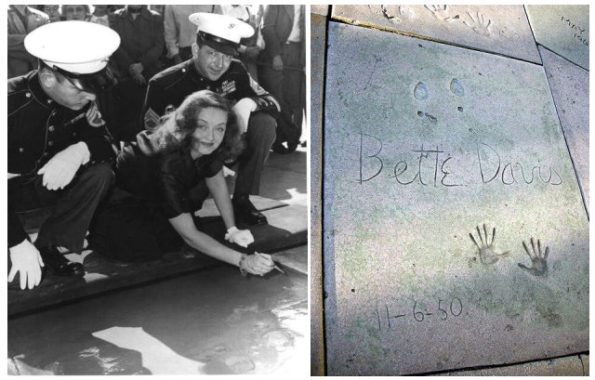 Betty Grable
Co star in "How To Marry A Millionaire" Notice her leg imprint!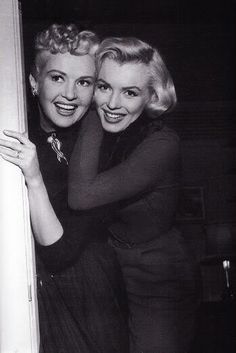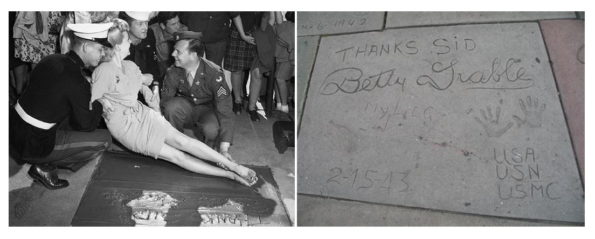 Clark Gable
Co star in "The Misfits."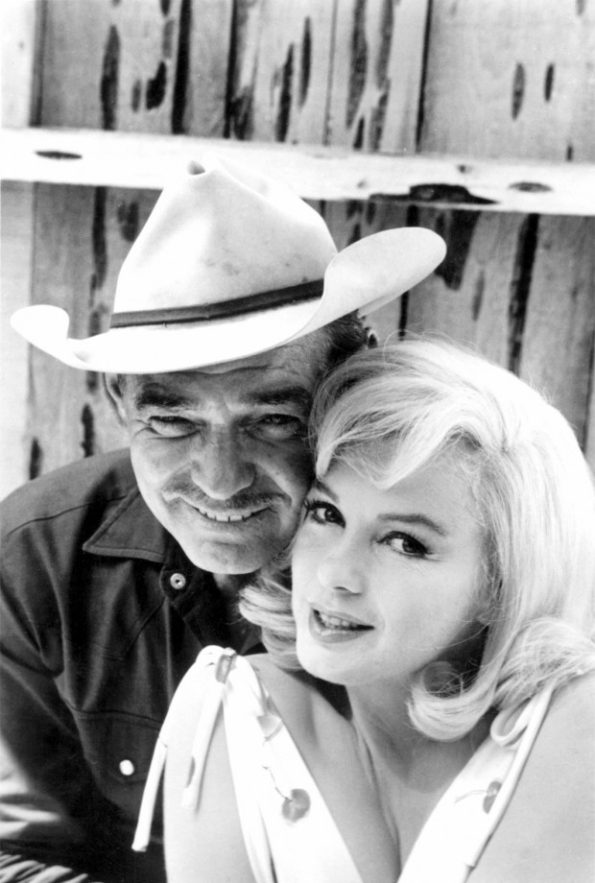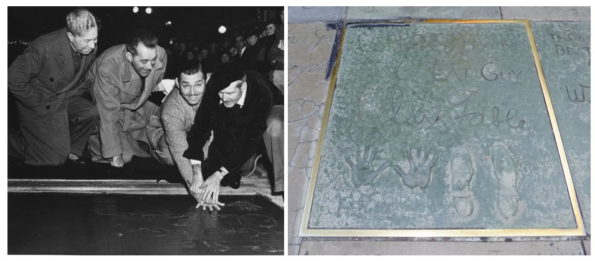 Donald O'Connor
Co star in "There's No Business Like Show Business." He very sweetly brought his Mother along to the ceremony.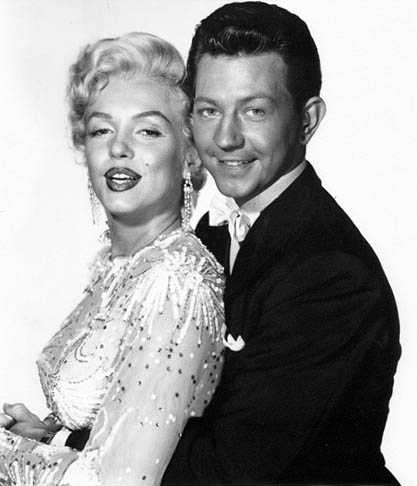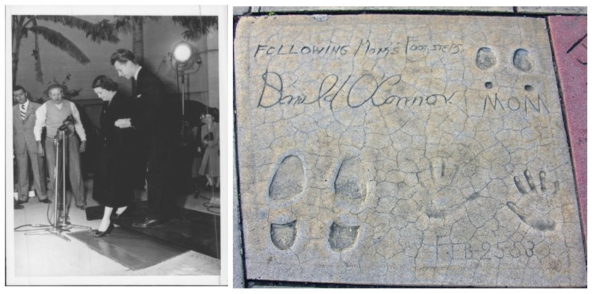 Ginger Rogers
Co star in "Monkey Business" and "We're Not Married!"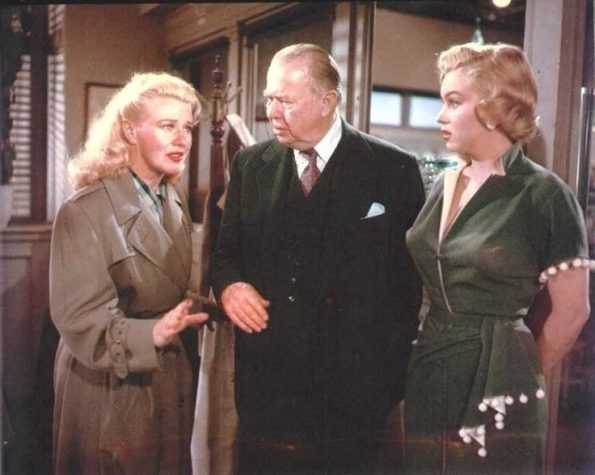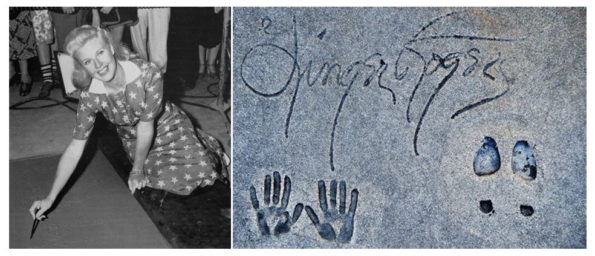 Dean Martin
Co star in the uncompleted "Something's Got To Give."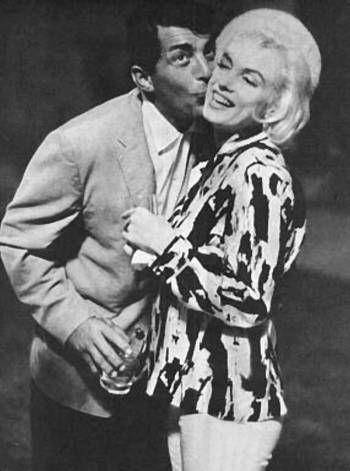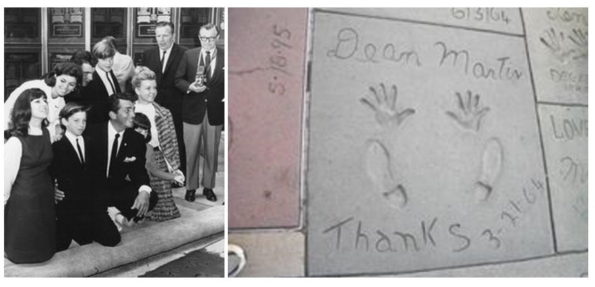 Jeanne Crain
Co star in "O' Henry's Full House."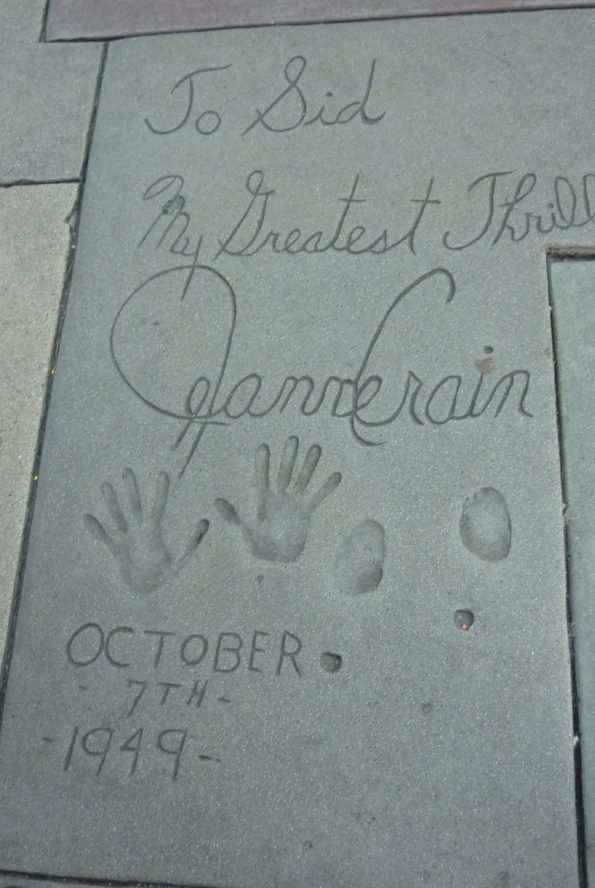 Gene Kelly
Co star in "Let's Make Love."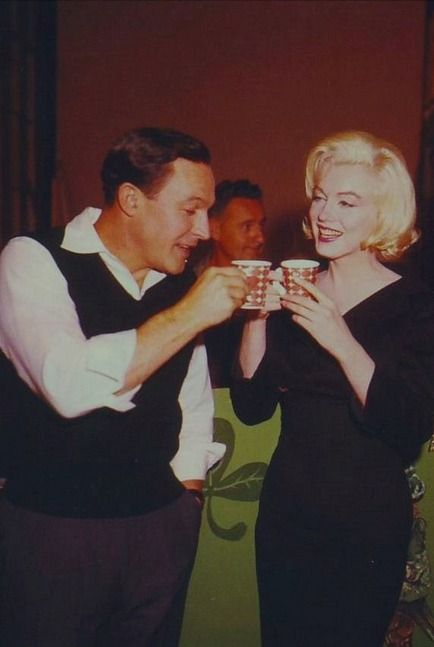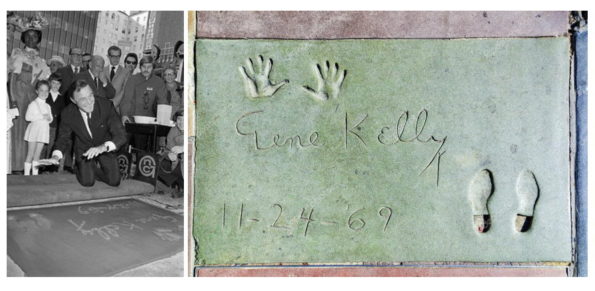 Joe E. Brown
Co star in "Some Like It Hot." Notice his mouth imprint!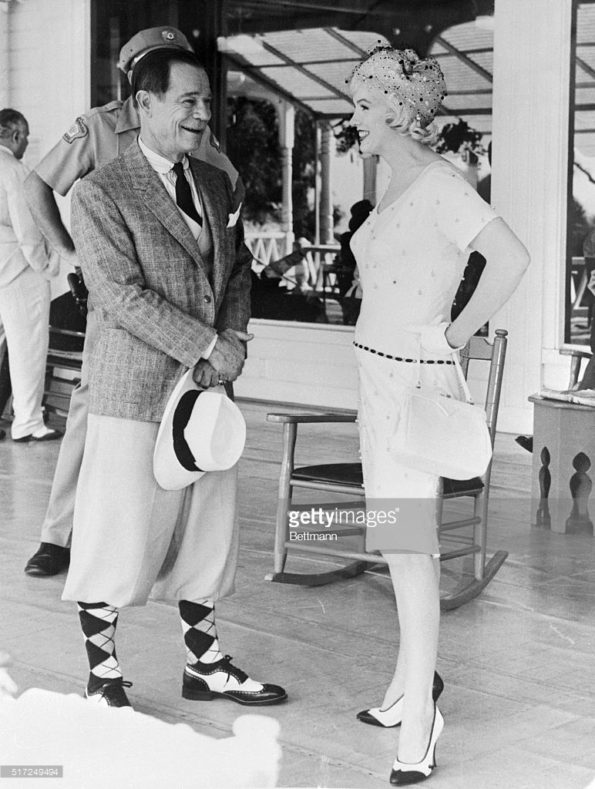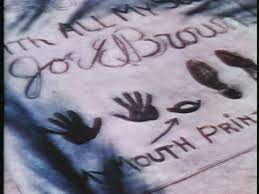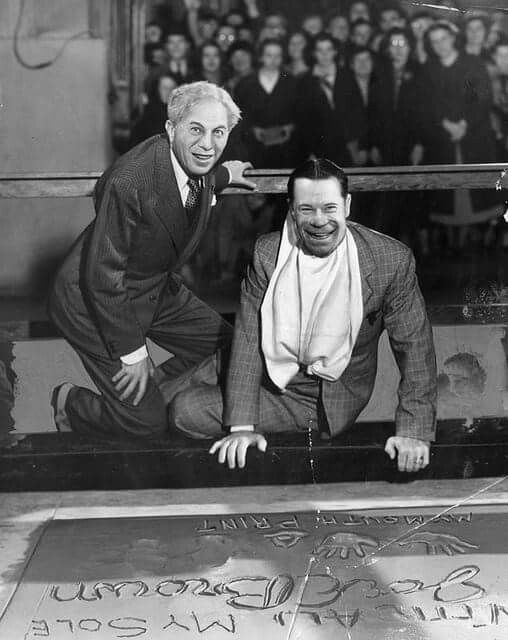 Cary Grant
Co-star in "Monkey Business."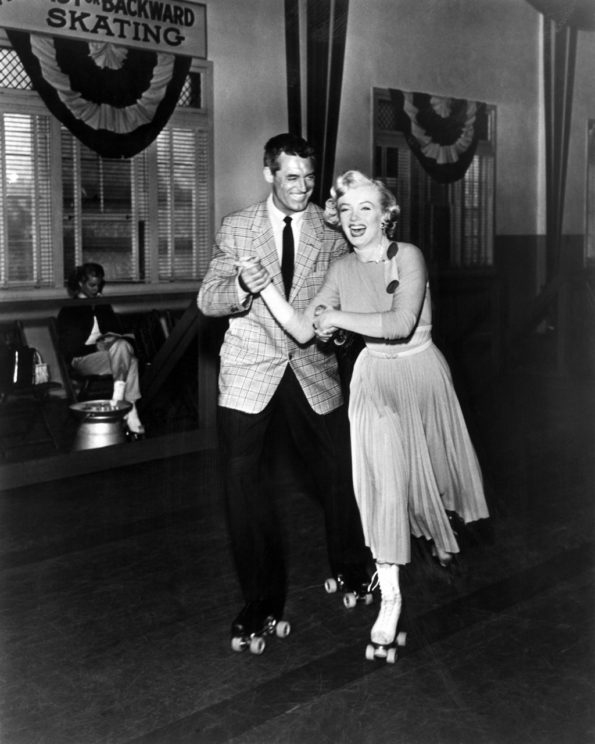 Charles Laughton
Co star in "O'Henry's Full House."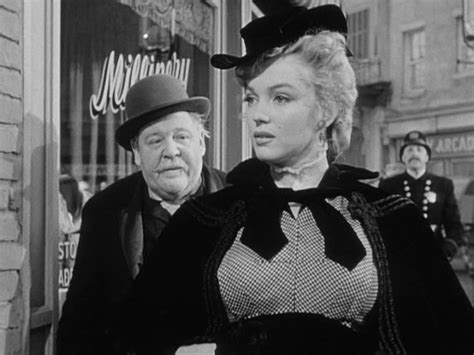 The Marx Brothers
Co stars in "Love Happy."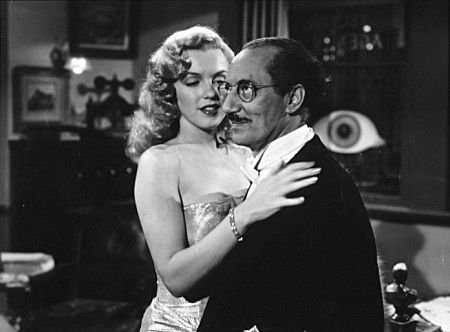 Mickey Rooney
Co star in "The Fireball."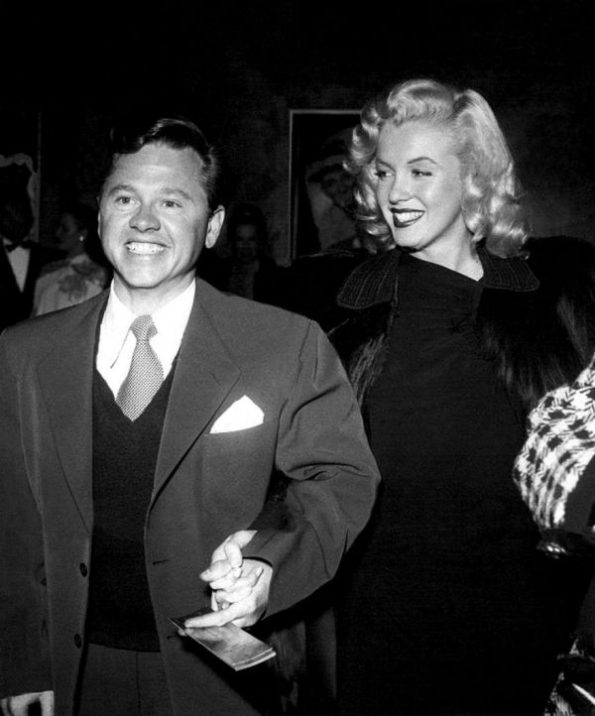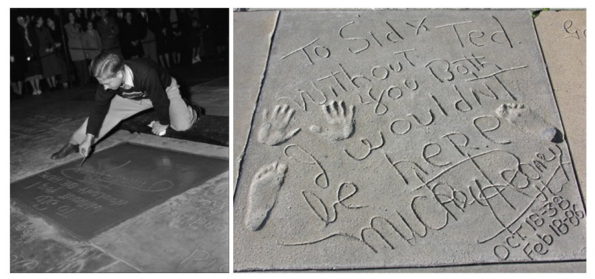 Natalie Wood
Co star in "Scudda Hoo! Scudda Hay!"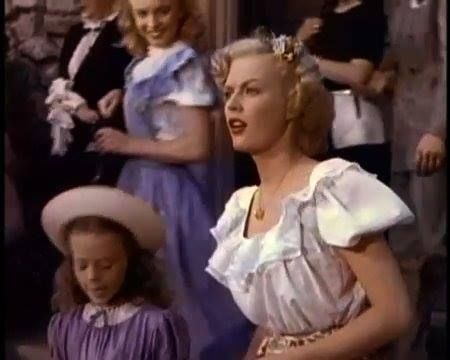 Barbara Stanwyk
Co star in "Clash By Night."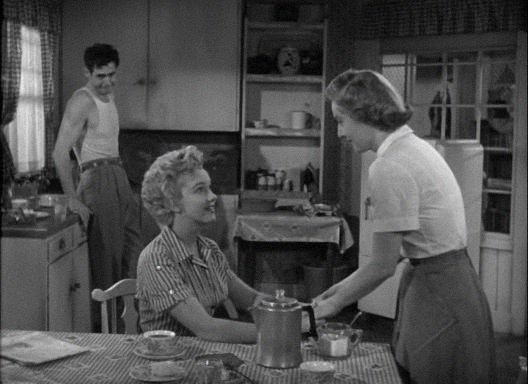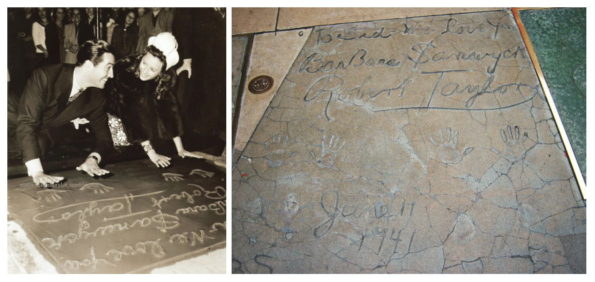 Richard Widmark
Co star in "Don't Bother To Knock."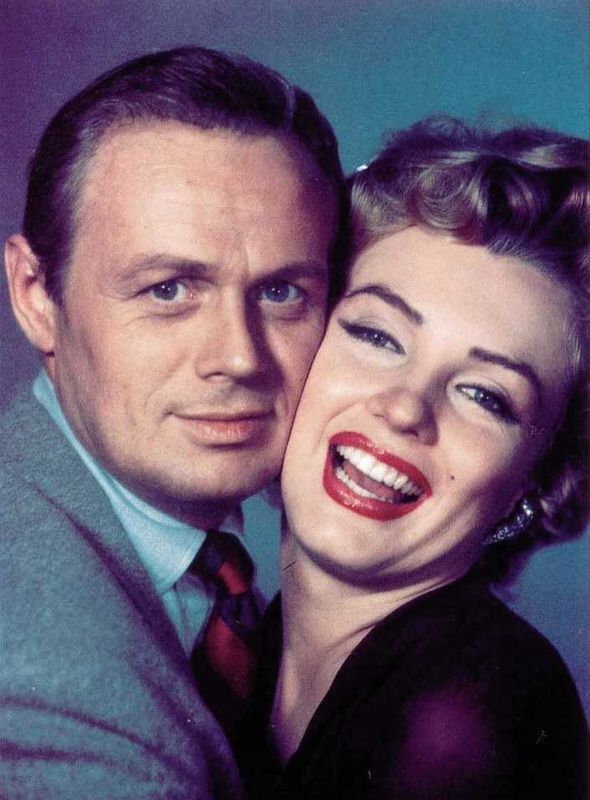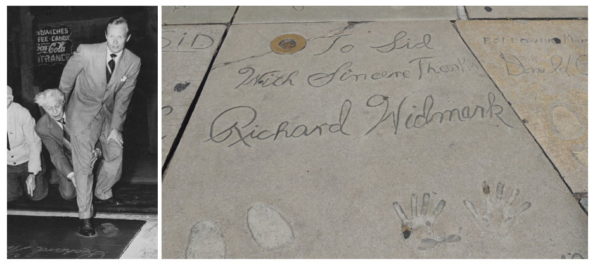 William Powell
Co star in "How To Marry A Millionaire."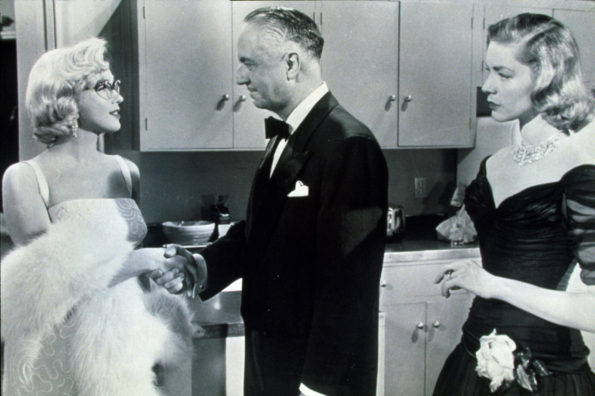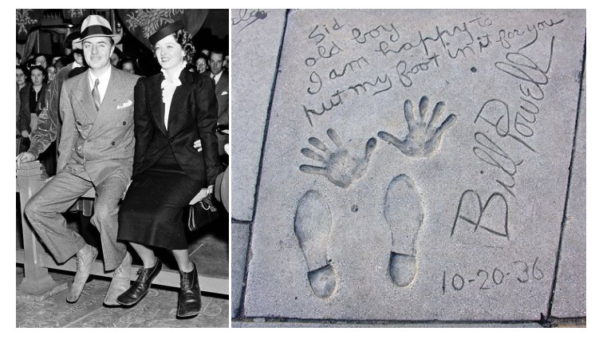 Monty Woolley
Co star in "As Young As You Feel." Notice his beard imprint!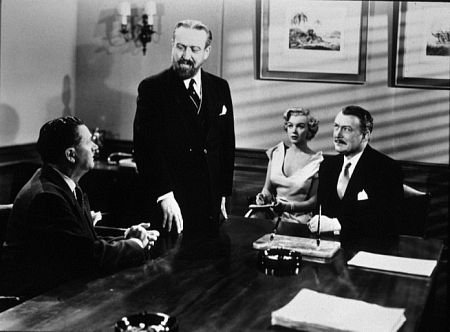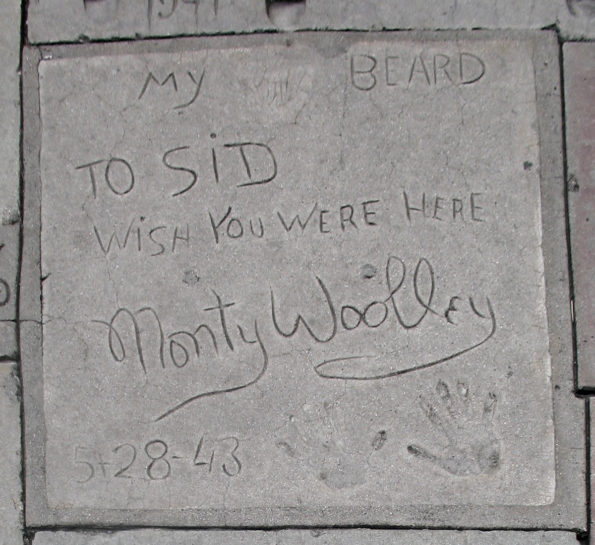 Jean Harlow
Marilyn's childhood idol.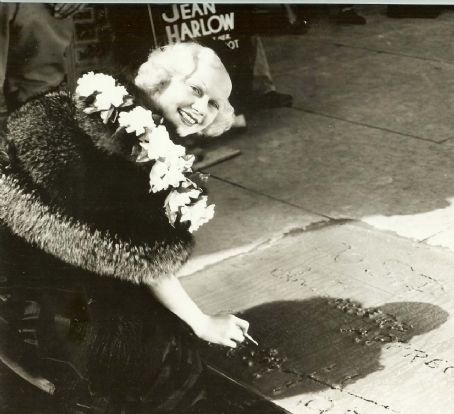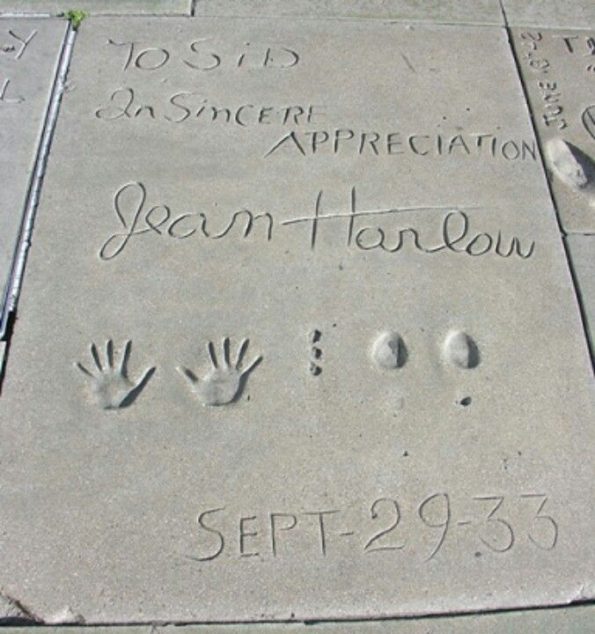 Frank Sinatra
Close personal friend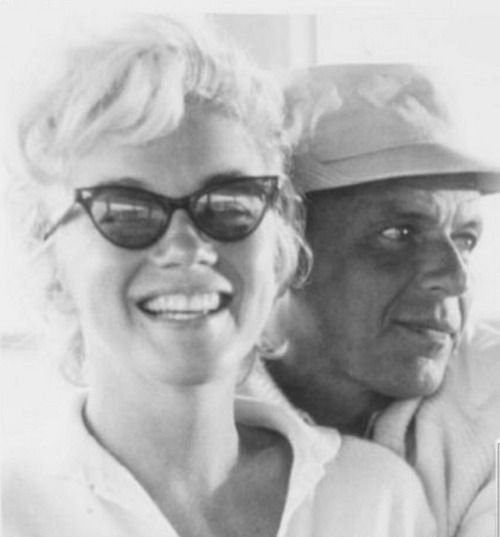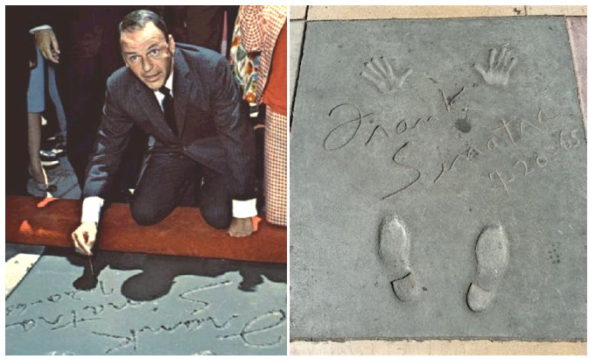 Jack Benny
Marilyn appeared on his tv show in 1953.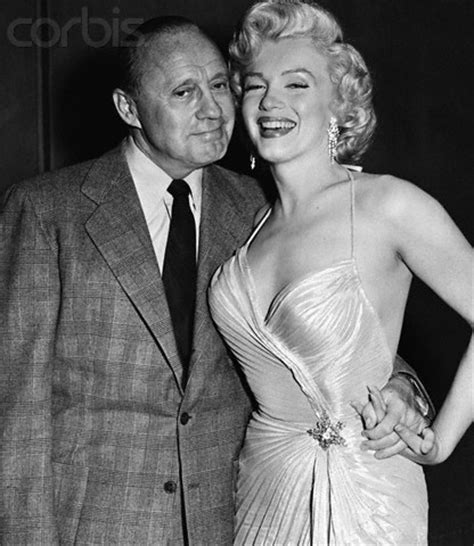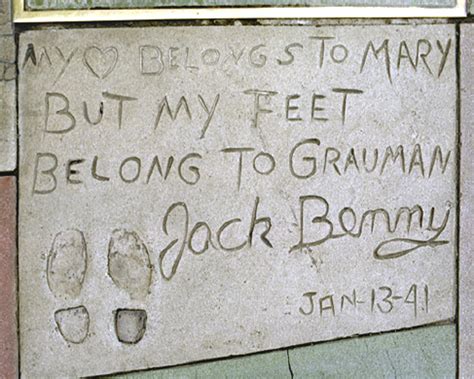 Doris Day
After Marilyn passed away, her final uncompleted film "Something's Got To Give" was remade into "Move Over Darling" starring Doris Day and used much of the same sets and props.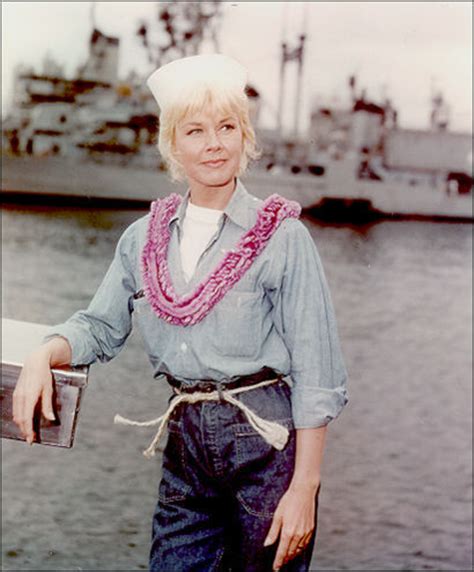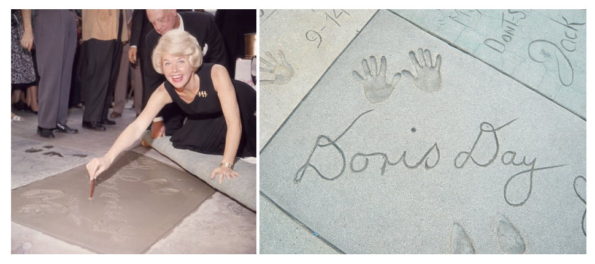 Jerry Lewis
Friend of Marilyn's.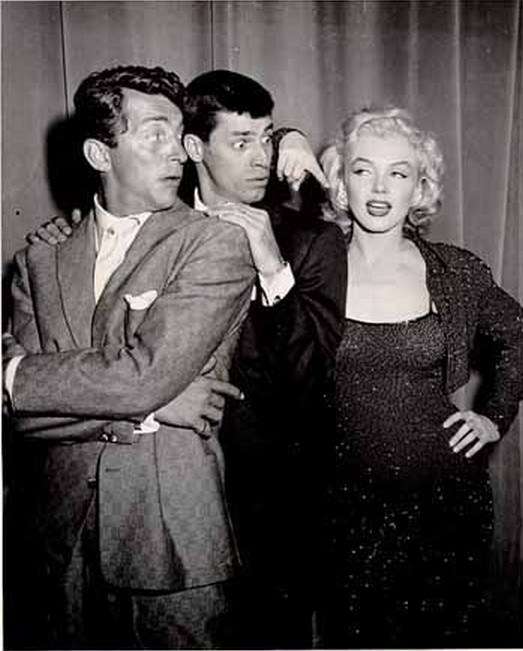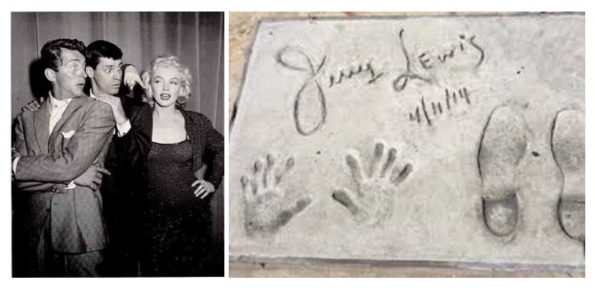 Humphrey Bogart
Husband of Lauren Bacall during the filming of "How To Marry A Millionaire."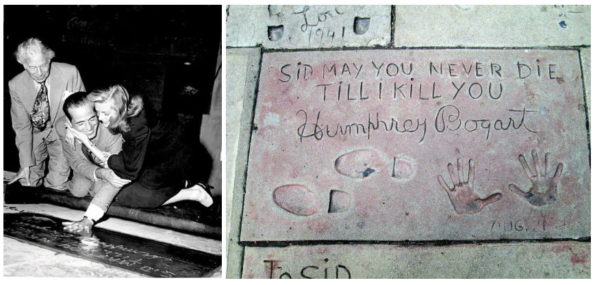 Of course, there are so many other big Hollywood names that never managed to get their hand and footprints immortalised over the years. One of which was Marilyn's "How To Marry A Millionaire" co-star Lauren Bacall.
Around premiere time for "How To Marry A Millionaire", Lauren Bacall got an invitation to place her hand and footprints outside Grauman's Chinese Theater. "I said to Bogie [Humphrey Bogart] that it seemed to me anyone with a picture opening could be represented there, standards had been so lowered. Bogie, loving a chance to puncture Hollywood's ego, said, 'Why don't you refuse?'"
[Hollywood columnist] Joe Hyams printed Bacall's refusal to accept the tribute in the Tribune. It read, "'Before I came to Hollywood, Grauman's Chinese was something very special to me – it meant not only achievement – it was the Hall of Fame of the motion picture industry and the people in it were unforgettables and irreplaceables. I don't think of myself as either – I feel that my career is undergoing a change and I want to feel I've earned my place with the best my business has produced.'"
More than 20 years passed, and Bacall did not earn another invitation to place her hand and footprints outside the theater. She wrote about this with some regret in her 1979 memoir By Myself: "A tourist or aspiring actor going to Grauman's Chinese to see the legendary stars' footprints will not see mine – or miss them."
Placing your hands in Marilyn's hands is an incredible experience and I'm sure she would be so thrilled to know that so many people travel from all over the world just for the experience. Here's to the next 65 years of Grauman's!