MARILYN REMEMBERED CELEBRATES 35 YEARS!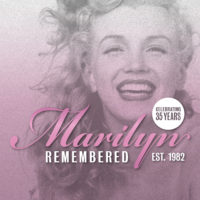 Established in 1982, Marilyn Remembered is the longest running Marilyn Monroe fan club in existence today.  We are proud to announce that August 5, 2017, marked our 35th anniversary.
Marilyn Remembered was founded by Greg Schreiner, Teresa Seeger, Catherine Seeger, and Anthony Cordova. These four lifelong Marilyn Monroe fans met by chance on August 5 at Marilyn's grave at Westwood Village Memorial Park. They had come to remember Marilyn on the anniversary of her passing. While at Westwood they discussed the fact there were no fan clubs for Marilyn at that time, and also no formal memorial service, and thus the Marilyn Remembered Fan Club was born. Their mission: To preserve the memory of Marilyn Monroe with dignity and grace.
Learn more about Marilyn Remembered and our 35 year history here.
---

THE 55TH ANNIVERSARY MARILYN MONROE MEMORIAL
Hosted by Marilyn Remembered

For details on all of the activities that took place August 1-5, 2017 for the 55th Anniversary Marilyn Monroe Memorial, click here.

---
JOIN US ON FACEBOOK!
Click the link below to join the Marilyn Remembered Fan Club online Facebook group.